Pastor Says Women Should Strive To Look Like An 'Epic Trophy Wife' & HELL No
by Cassandra Stone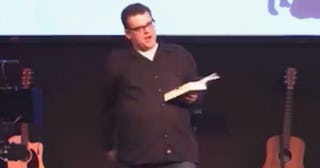 Reagan Williams/Facebook
According to pastor Stewart-Allen Clark, you deserve to be cheated on if your husband thinks you're an uggo
Another day, another sexist evangelical man thinking he's been empowered by God to tell women they're fat and ugly. Did you know that if you're a woman in a heterosexual marriage, you should strive each and every day to be an "epic trophy wife" like Melania Trump? That's right! If you're not giving your physical appearance your all (and all your dollars for cosmetic dermatology), you're doing it wrong and you deserve to be cheated on — according to the Lord, of course.
Pastor Stewart-Allen Clark (of course he has two first names) of Missouri is officially on leave for his comments during a recent sermon, but the damage has very clearly already been done. During a Feb. 28 service at the First General Baptist Church, Clark told all the women in his congregation that they're a bunch of fugly uglies who should get right and get tight for their man or they're worthless.
You know, the kind of message at the forefront of Jesus' every plight.
Clark's piggish snorts were captured on film by a friend of a parishioner. If you've got the stomach for it, here you go:
"I'm not saying every woman can be the epic trophy wife of all time like Melania Trump," Clark, who is dressed like Kevin James in King of Queens circa 1999), tells the congregation. "I'm not saying that at all. Now most women can't be trophy wives, you know, like her. But like maybe a participation trophy, I don't know. But all I can say is that not everybody looks like that, amen."
No. Most people don't look like Melania Trump, who is a former model, has a lot of money, and the world's top dermatologists at her service and pure evil pumping through her veins. And most pastors don't look like Chris Hemsworth, either, but I can't find a sermon on that.
Good news, though, if you don't look like Melania there's still hope! "Not everybody looks like that. But you don't need to look like a butch either," he assures us inspiringly.
But if you wear sweatpants and pajama pants, forget it. You're a straight-up unworthy uggo who deserves to be cheated on by your husband, who apparently deserves to place his lil' peepee inside an Austin Powers fembot and should not settle for anything less!
"Men have a need for their women to look like women," he continues. "And sweatpants don't cut it all the time, huh. Wear footballs and pajamas to Walmart, nah, that ain't gonna work. Ain't nothing attractive about that. It ain't. Men want their wives to look good at home and in public. Can I get an amen?"
Naturally, when word of Pastor Pig's sermon reached social media, people had THOUGHTS.
https://twitter.com/jetpack/status/1368498918506471427
Mr. "Women Can't Be Ugly But I Can Come To Work In Peter Griffin Cosplay" was put on leave, according to his church's website: "As of March 2, 2021, Pastor Stewart-Allen Clark has taken a leave of absence and is seeking professional counseling."
Let's hope that counseling covers why it is that so many people who have scripture on their lips have pure hatred in their hearts. But evangelicals gonna evangelical, amiright? Because how could they even exist if they weren't attempting to assert control over every aspect of a woman's physicality?
This article was originally published on