Missouri Republicans Are Forcing Women To Get Pelvic Exams Before Having Abortion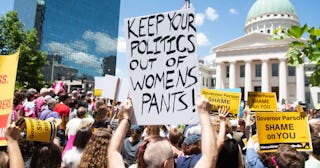 SAUL LOEB/AFP/Getty
Missouri lawmakers can't stop, won't stop being anti-woman and anti-choice
Last month, members of Missouri's Senate passed a bill prohibiting women from having abortions at eight weeks of pregnancy or later, making them one of several states in recent weeks to pass some of the most restrictive abortion laws in the country. And things are about to get even more dire for the women of Missouri: it's now required for all patients seeking an abortion to undergo a pelvic exam 72 hours prior to the procedure.
Currently, there is one remaining abortion clinic operating in the state of Missouri. The lone St. Louis Planned Parenthood is embroiled in a legal battle to keep its doors open, with doctors and employees operating in daily uncertainty as it is. And the Republican lawmakers aren't making things any easier for anyone.
During an appearance on MSNBC's Rachel Maddow Show, Dr. Colleen McNichols of the St. Louis Planned Parenthood, explains what a pelvic exam means. Because a vast majority of the people enforcing these archaic, anti-woman laws will never have to undergo one.
"It includes putting your fingers and other instruments in the vagina, when really that gives no medical information," Dr. McNichols explains. "It doesn't do anything to help the patient, or myself, choose what is the best approach for their abortion care."
In fact, pregnant women don't even typically receive pelvic exams at any point during their pregnancy until maybe right before a full-term delivery. A Pap smear in the very beginning is typical if you haven't had one in a while. But a full-on pelvic exam? Uh, no. Because like Dr. McNichols says, it doesn't do anything. Except add a layer of humiliation to women who simply wish to undergo a safe, routine medical procedure.
The American College of Obstetricians and Gynecologists states that pelvic exams should be performed when "indicated by medical history or symptoms" and "based on a shared decision between the patient and her OBGYN."
The medical director of the St. Louis Planned Parenthood, Dr. David Eisenberg, calls out the new law for what it is — a violation. "What I realized was I effectively have become an instrument of state abuse of power," he tells the Los Angeles Times. "As a licensed physician, I am compelled by the state of Missouri to put my fingers in a woman's vagina when it's not medically necessary."
The clinic's director of surgical services, Kawanna Shannon, tells the Times about a patient who had a particularly difficult time during her pelvic exam. Shannon says the patient was seeking an abortion because her fetus had severe physical abnormalities.
"That woman had a complete breakdown," Shannon says. As the doctor in the room with her, she "felt horrible as a physician to have to perform a pelvic exam on a woman who was already going through such hardship."
It's despicable and cruel, to be sure, but then again — isn't that the point? To dehumanize women as reproductive vessels with no bodily autonomy? To prove, once and for all, that cis white men have power over body parts and physical experiences they'll never have?
"We either have to ask patients to subject themselves to a state-sanctioned, essentially, sexual assault," McNicholas said, "or they can't have an abortion here in Missouri."