Missouri's State Health Director Admits He Tracked Planned Parenthood Patients' Periods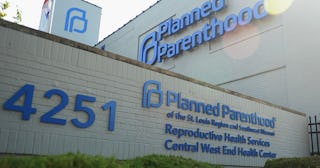 Michael Thomas/Getty Images
Missouri's state health director admits that he had been tracking the periods of individuals who went to Planned Parenthood in the state
This news is like something straight out of The Handmaid's Tale, and we can't believe we're even writing this sentence, but Dr. Randall Williams, head of Missouri's Department of Health and Senior Services, admitted in a hearing that he kept a spreadsheet tracking the periods of individuals who visited a Planned Parenthood clinic in the state in an attempt to keep track of patients who may have had a "failed abortion."
According to the Kansas City Star, investigators from the section of the health department responsible for abortion clinic licensing have been looking into the cases of four "failed abortions" at Planned Parenthood centers, which means that a woman needed more than one operation to secure an abortion.
As part of the investigation, Planned Parenthood was compelled to report to the state each time they performed a "failed abortion," or what health officials called a "complication report." Apparently, Planned Parenthood failed to report one abortion, so the state health director decided to track the periods of every individual that passed through Planned Parenthood's doors in an attempt to find out which women were having undocumented, so-called "failed abortions."
"Missouri's top health official, Randall Williams, scrutinized menstrual cycles of women in this state in order to end abortion access," Yamelsie Rodriguez, president and CEO of Reproductive Health Services of Planned Parenthood of the St. Louis Region, said in a statement.
Democrat Missouri House Minority Leader Crystal Quade was highly critical of Williams' actions and has called for an investigation to see if any laws were broke in his deeply disturbing probe.
"State law requires the health department director to be 'of recognized character and integrity,'" Quade also said in a statement. "This unsettling behavior calls into question whether Dr. Williams meets that high standard."
There are a ton of red flags here. Tracking periods. Reporting abortions to the state. And the larger issue that Missouri is looking for any and every excuse to shut down their only Planned Parenthood location, because if the state succeeds in revoking Planned Parenthood's license, there will not be a single legal abortion clinic in Missouri.
"Hello Missouri," Rachel Maddow tweeted, "Turns out your state health director has been personally tracking the menstrual periods of Missouri women, on a spreadsheet. This is how your state govt is 'regulating' the last abortion provider in MO — while trying to shut it down."
While Democratic Presidential hopeful Cory Booker put it more bluntly, "This news out of Missouri is deeply disturbing. The decision to have an abortion should be between a woman and her health care provider, free from government interference. This abuse of power by Missouri Republicans is dystopian."
Dystopian indeed.