Missy Elliott Just Surprised The Karaoke Queen On Ellen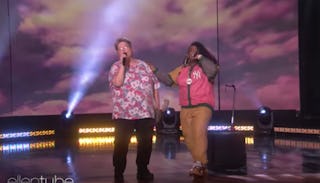 Image via YouTube/Ellen
Missy Elliott shocked her "funky white sister" during a performance on The Ellen Show
Last month, one of the best viral videos to ever viral hit the internet and a star was born. Mary Halsey, an assistant at a nursing and rehab facility as well as a beloved figure in her community, grabbed the mic and busted out the best karaoke version of Missy Elliott's hit song "Work It" that the world's ever seen. Even Missy Misdemeanor herself agreed, shouting Halsey out on Twitter.
That's why Elliott showing up to surprise Halsey on The Ellen Show is pretty much the best thing we've ever seen. Ever.
After an interview with Ellen, Halsey began her performance. The crowd lost it, of course — this woman is a legend in her own time.
If you just came for Halsey's insane rap skills, go to around minute 2:40 in the video. Then prepare to whoop and squeal at what comes next.
Halsey starts getting her song on and less than two minutes later, Elliott appears onstage, to the delight of literally everyone — and to the shock of Halsey. It's just completely adorable in every way.
The two perform together briefly while fellow "Ellen" guest Kristen Bell continues to just love it, which is a whole other level of adorable.
They embrace at the end and I am given new life.
To refresh your memory a tad, here's the original in all its public park picnic glory.
The internet went positively bananas for Halsey's viral performance, complete with a woman bopping along in the background while holding her plate of food. It's simply everything good in this world.
It's easy to see how the video ended up in front of Ellen because it's absolutely amazing and somehow manages to be extremely pure and wholesome despite Halsey gleefully repeating some of Elliott's racier lyrics. And now, we have her and Missy together, exactly where they belong. This collab is what the internet needs today and I for one am grateful.