Mitch McConnell's Campaign Targets Female Political Rivals With Violence
by Valerie Williams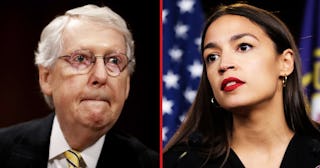 Win McNamee/Alex Wroblewski/Getty
McConnell's campaign and supporters have targeted female political rivals with disturbing imagery
Supporters and the actual campaign of a member of the GOP are putting out materials about his female political rivals that include violent or degrading imagery. Shocking, right? That member of the GOP would be Senate Majority Leader Mitch McConnell. Yes, the very same Mitch McConnell that refuses to do a single damn thing to keep Americans safer amid our mass shooting epidemic also has campaign workers and supporters who see no issue with mock-choking a cardboard cutout of a current member of Congress or putting an opponent's name on a tombstone.
We're dealing with a very classy bunch here, clearly.
Alexandria Ocasio-Cortez herself called out McConnell by retweeting an image, initially shared by Twitter user @emrazz. In it, a group of young, white, male McConnell supporters are seen groping and throat-grabbing a cardboard cutout of the freshman member of Congress. The caption? "Break me off a piece of that."
@Emrazz writes in her caption, "Future federal judges of America," and another image of what looks to be the very same young men shows who their idol is, so that assertion is pretty accurate.
Perhaps even more disturbing because it was put out into the world by grown adults working for a political campaign instead of toxic young men who support that campaign is the photo of this little setup of tombstones at the very same Fancy Farm political picnic where AOC's cardboard cutout was gleefully groped. McConnell's own campaign shared the image with a caption calling him "The Grim Reaper of Socialism." The tombstones read: Judge Merrick Garland (whose nomination McConnell blocked), socialism, the Green New Deal, and Amy McGrath, who is running to unseat McConnell in 2020.
McGrath retweeted the image herself writing, "Hours after the El Paso shooting, Mitch McConnell proudly tweeted this photo. I find it so troubling that our politics have become so nasty and personal that the Senate Majority Leader thinks it's appropriate to use imagery of the death of a political opponent (me) as messaging."
"I'm fine with the ordinary rough and tumble of politics, but this strikes me as beyond the pale," she wrote in another tweet.
Not that it's ever acceptable for a political campaign to put a rival's name on a tombstone, but as McGrath points out, in the wake of a pair of deadly mass shootings, the imagery (and possible dog whistle to alt-right lunatics) is beyond disturbing.
As for McConnell's campaign — they quickly provided a statement to ABC News saying that the young men in the AOC photo were not employed by the senator's campaign. Campaign manager Kevin Golden says the campaign doesn't "condone" the behavior but the statement stopped short of fully denouncing it.
Oh, and they were sure to do a little childish tit-for-tat too, and a mention of Obama, naturally. "We've watched for years as the far-left and the media look for every possible way to demonize, stereotype, and publicly castigate every young person who dares to get involved with Republican politics," Golden said. "Team Mitch in no way condones any aggressive, suggestive, or demeaning act toward life sized cardboard cutouts of any gender in a manner similar to what we saw from President Obama's speech writing staff several years ago."
The campaign apparently arranged the tombstones as a nod to a political cartoon.
Is it particularly shocking amid this GOP stew of racism, toxic masculinity, cruelty, and misogyny to see that supporters of McConnell find these things perfectly acceptable? Of course not. Should we as a country stand up and demand better? Absolutely. Kudos to AOC and Amy McGrath for not staying silent and pointing out these vile instances as they happen.
This article was originally published on