McConnell Laughs Off COVID Inaction Because He Might Actually Be Satan
by Cassandra Stone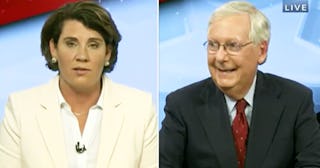 CSPAN
Mitch McConnell proves he's a sentient sack of turtle nuts by laughing at people who are struggling through the pandemic
Breaking News: Senate Majority Leader Mitch McConnell is a heartless ghoul who would love nothing more than to not only cut short the lives of all of his constituents in Kentucky if he could, but every life in America too because he actually has the power to do it. And will wield that power by refusing to pass any further relief for the American people during the biggest economic crisis since the Great Depression and the biggest public health crisis in modern history. Oh, also? He thinks it's funny.
During last night's debate with his opponent, Amy McGrath, McConnell was questioned over the issue of coronavirus relief funding. Remember that cute little $1200 check not everyone received back in April-ish? And how it's not even enough for most individual Americans to live on for two weeks? Well, it's mid-October and we still haven't received anything more. The unemployment rate is at 3.7%, over 214,000 people have died from COVID-19, hundreds of thousands of others now have chronic health conditions because of it, and all we have to show for it is a measly, one-time payment of $1200.
You can thank Senator Slack-Jawed Chuckles himself, but he doesn't care. Because if Mitch McConnell cared about anything but political power, he wouldn't have laughed in the face of America last night.
"The House passed a bill in May and the Senate went on vacation," McGrath said as McConnell laughed. "You just don't do that. You negotiate. Senator, it is a national crisis." McGrath was referring to the nearly $3 trillion relief bill passed by the House in May, which GOP lawmakers in the Senate dismissed. But not before McConnell adjourned for a week for Memorial Day!
"We're facing a national crisis," McGrath wrote after the debate on Twitter. "There's nothing funny about 214,000 Americans dying."
It wasn't the only time McConnell had a giggle at the expense of people who don't have his salary or socialized healthcare.
The viral chuckle heard 'round Twitter made plenty of people angry last night.
For his part, naturally, McConnell blamed the House speaker, Nancy Pelosi. "Look, I know how to make deals," he said, sounding remarkably like the Loser-In-Chief he idolizes so much. "I made three major deals with Joe Biden during the Obama era. What the problem is here is the unwillingness of the speaker to make a deal."
He also came for McGrath's military background — she's a former Marine Corps fighter pilot. "She mentions she was in the Marines about every other sentence," McConnell said. "I think her entire campaign is: she's a Marine, she's a mom, and I've been [in Washington] too long."
I DUNNO, MITCH, I'D SAY YOU UNINTENTIONALLY NAILED IT. Someday, cretins like Mitch McConnell won't be in power anymore. Just remember that.
This article was originally published on