Mitch McConnell Blocks Paid Leave For COVID Workers Because He's A Ghoul
by Cassandra Stone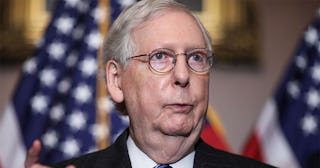 Tom Brenner-Pool/Getty
Congress will not be extending its paid leave mandate in the new relief bill, thanks to ol' Mitch
The worst person in Congress (and possibly the world?), Senate Majority Leader Mitch McConnell, just can't stop, won't stop doing whatever he can to dehumanize the most vulnerable people in the US. His latest act of pure evil? Preventing workers who get sick with COVID-19 — you know, the virus that's been killing 3,000 people per day this month — from being able to take paid sick leave.
McConnell blocked that extension from being included in Congress's latest coronavirus aid package. Back in March, Congress passed a law mandating that workers would be able to draw two weeks of paid sick leave if they contracted COVID, two weeks of paid leave to care for a quarantining relative, and up to 10 weeks of paid family leave to care for a child whose school or daycare closed due to COVID-related issues.
But now those protections are gone. During a pandemic that has affected the health and livelihood of millions of Americans. Who likely won't even be able to get vaccinated until some time next summer.
Buzzfeed News reports that both Democrat and Republican Congressional aides confirmed that the paid leave extension was left out of the new $900 billion relief bill — for no other reason than as a concession to McConnell's wishes. Because that man is a grey-faced ghoul whose sole reason for existence is to take advantage of his status in the ruling class by further disenfranchising poor and working-class people.
The specifics: the new bill does extend a refundable tax credit that fully subsidizes the cost to businesses who are paying out sick leave through the end of March. This means the federal government will cover the cost of sick leave for businesses that offer it — but only for the next three months. After that, opting into the sick leave program will be optional for businesses, who could very well choose to not let their employees take paid time off if they're sick.
According to a study by Health Affairs, paid sick leave lowered the spread of COVID this year. A projected extension of four to six months would cost $8 billion to $13 billion, which amounts to approximately 1% of the cost of the $900 billion relief package passed Monday.
The bill is set to pass on Monday night, and Trump is expected to sign it into law afterward. One last, tiny breadcrumb tossed to the starving, struggling, terrified workers of the richest country in the world before he leaves office.
If only McConnell could be next. At the very least, a Democratic win in the Georgia run-off election in January will remove him from power as the majority leader. Another crumb, to be sure, but at least it's a savory one.