'Mixed-ish' Is An '80s Show With Modern Relevance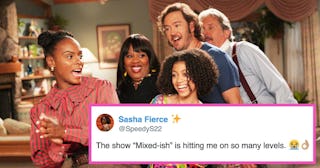 ABC and SpeedyS22/Twitter
Sometimes, TV show spin-offs feel unnecessary. But in the case of Mixed-ish, the latest spin-off of the hit ABC show Black-ish, it's totally necessary. We're all familiar with Dr. Rainbow Johnson on Black-ish, portrayed by the inimitable Tracee Ellis Ross (who does a Wonder Years-style commentary on the show.) Mixed-ish is her origin story, the one that explains how she came to be the Bow we all know and love. And they do it in a way that is fresh and engaging while retaining the style that the franchise is known for.
Mixed-ish features Tika Sumpter as Rainbow's mom Alicia. She is the embodiment of the '80s sitcom mom — firm with her family, but loving and fiercely protective. Mark-Paul Gosselaar (yes, Zack Morris!) plays the dad, Paul. Even as an aging hippie with a dad bod, he will make your heart swoon. Aunt Dee-Dee is kind of like the kids' fairy godmother, giving them daily lessons in blackness. And the three children portraying Rainbow, Johan and Santamonica fit perfectly into the already established parts of their characters.
Like its predecessor, Mixed-ish doesn't shy away from difficult conversations, even only a few episodes in. Even though the show takes place in 1985, it shows viewers just how much society hasn't changed. While Rainbow's dad Paul lives in his "I don't see color" world, her mother Alicia is the realist.
As a black woman who has always been in interracial relationships and who has a mixed son, Mixed-ish is already a favorite. Rainbow's 12-year-old fears of wanting to fit in but not knowing how are so real. She is straddling the line of being both black and white in a time where you really had to pick one or the other. Rainbow's conviction to stay true to herself is the heart of the show.
And her mom Alicia is really the character you find yourself drawn to. Alicia is a black woman who is secure in her blackness, even with a white husband. She is a lawyer, and if the writers are smart, they'll draw the comparison between her and Clair Huxtable from The Cosby Show. Alicia, aware that she's got to be the primary breadwinner for the family, goes to work for her racist AF father-in-law. In her office, she's putting up with microaggressions from her co-workers constantly. But she never falters, because she knows that black women don't have room to fail.
Of the few episodes to air, the episode on natural hair really hits home for me. Many black women are rocking our natural hair now, but in 1985, black women spent many dollars and hours to straighten it.
Of course, Mixed-ish is still finding its footing as a show. But so far, they're hitting all the notes that could make it as popular as its parent show. Each episode is smart, poignant and funny in a way that only the Black-ish team can do.
Mixed-ish airs on ABC on Tuesdays at 9PM Eastern/8PM Central.