MJ Rodriguez Is First Trans Woman Nominated For Lead Acting Emmy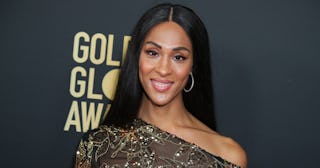 Leon Bennett/WireImage/Getty
She's the third trans actor to receive a nomination, the first for Lead Actress
Pose star Mj Rodriguez just made history becoming the first trans woman to receive an Emmy nomination for Lead Actress. Rodriguez is up for Lead Actress in a Drama Series for her role as house mother Bianca in the FX drama.
Pose received a whopping nine nominations for its final season. In addition to Rodriguez, the show's fan favorite Billy Porter also received a nomination for Outstanding Lead Actor in a Drama Series and the show itself for Outstanding Drama Series. Rodriguez is one of the largest casts of transgender actresses in a regularly scripted show.
Although Pose earned 11 Emmy nominations during its first two seasons, not one member of the series' predominantly trans cast received their own nomination. The singer-actress will be competing against fellow nominees Uzo Aduba, Emma Corrin, Olivia Colman, Elizabeth Moss, and Jurnee Smollett for the best actress category.
On the opening day of Emmy voting in June, GLAAD released an open letter to Emmy voters asking them to give Pose and its actors the recognition they deserve.
"From the beautifully crafted storylines to the remarkable cast performances, Pose broke new ground for transgender inclusion both in front of and behind the camera, leaving behind a legacy that will change the future of trans representation on television. In its final season, TV Academy voters must acknowledge the importance of telling and recognizing diverse storytelling, which includes the performances of trans people of color who have been overlooked for far too long."
Rodriguez is the third trans actor to receive an Emmy nomination. Actress and filmmaker Rain Valdez received an outstanding actress in a short form comedy or drama series for Razor Tongue in 2020, and Laverne Cox, who made Emmy's history as the first-ever openly transgender actor nominee for her work as Sophia Burset in Netflix's Orange Is The New Black in 2014.
In talking about her role and her work as a trans actress, Rodriguez told Variety, "I think Hollywood just has to constantly keep creating space for us, they have to make us feel comfortable." She also talked about legislative support, adding, "I do see that a lot of those legislations are having a strong battle in getting it passed…It should happen that way. No discrimination should be put on any kind of human being. I'm disappointed, but I still see hope."
Though Pose is coming to an end, it's not the last we will see of the rising star. She's set to star opposite Maya Rudolph in an upcoming Apple comedy series from Alan Yang and Matt Hubbard.