Mo Willems Live-Streams 'Lunch Doodles' To Entertain Quarantined Kids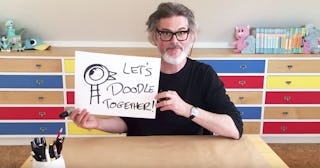 The Kennedy Center/Youtube
Author and artist Mo Willems launches "Lunch Doodles"
Mo Willems, the artist behind popular children's book series like The Pigeon and Elephant & Piggie, has come to save us all. As schools across the country close because of the coronavirus pandemic, Mr. Willems has stepped in to fill that family quarantine void with Lunch Doodles. In each episode, Willems shows you and your kids how to draw some of his iconic characters which translates to a solid 30 minutes of your kid quietly drawing.
"Lunch Doodles" livestreams each weekday at 1 p.m. EST on the Kennedy Center's website, though Kennedy Center has released the first two episodes on YouTube the next day. "You might be isolated, but you're not alone. You are an art maker. Let's make some together," Willems said in a statement.
In each episode, Willems teaches you how to draw some of his favorite characters and gives little tours of his studio, and even if you don't want to doodle, watching him slowly and methodically draw an elephant is extremely relaxing. You can also send in your kid's drawings and questions to LUNCHDOODLES@kennedy-center.org for a chance to be featured on the show.
"I know a lot of you guys are not in school, you're at home right now because of all the things that are going on," Willems said in the announcement video. "Well guess what? I'm at home too. So for the next couple weeks… I'm going to make drawings with you, I'm gonna show you some stuff about my studio and we're gonna hang out together."
https://www.instagram.com/p/B9zBwuwDRm1/
Believe it or not, Lunch Doodles is working, and by that we mean, kids all over are quietly drawing alongside Willems' broadcast. Some parents are calling it "creative homeschooling" and honestly, do what you gotta do during these trying times.
Other authors and notable folks are stepping up to help entertain during the quarantine. Josh Gad, aka Olaf, is reading bedtime books to kids and you can find all his old streams and videos on his Twitter feed.
Save With Stories has been recruiting dozens of different celebs to read books to kids, which is awesome, because famous actors are great at narrating all the parts.
Plus, Scholastic is providing 20 days of home learning content for free on their website to help all the parents that have suddenly been forced into home schooling.
As families scramble to make sense of this new world, we're grateful for those helping to soften the blow a bit.