Model Who Proved Every Pregnant Body Is Different Poses With Her Friend Again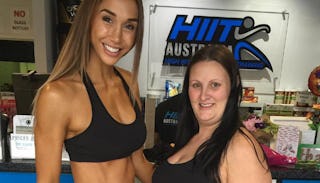 Model and her friend pose to show off healthy babies after their pregnancy photo went viral
As any woman who's had a baby knows, every pregnant body is different. We saw a photo recently that proved that point perfectly as a pregnant model and her friend, due only four weeks apart, posed together with baby bellies that looked nothing alike. They're back now, both with healthy babies, proving the size of their respective bumps had absolutely no bearing on the outcome of their pregnancies.
Chontel Duncan, the pregnant Australian fitness model who went viral this past March posing with her pregnant friend, had her baby boy eight weeks ago. Her friend Nat had her baby too, also a boy. The friends had a visit recently where they recreated their pregnant pose, only this time, holding their adorable infants.
Duncan writes, "Had a lovely surprise visit from Nat & baby Charlie. Omg his baby blue eyes are so beautiful. Wish I could have cuddled & kissed him but I'm not 100% well yet (hence my rank face). Two healthy incredible pregnancies & now two healthy baby boys."
[related_post]
According to her birth announcement on Instagram, Duncan's son Miah was born at 39 weeks and a few days weighing a healthy 7 pounds, 13 ounces. Of course, the model mom knew all along that she was doing right by her own body and her son, but the internet questioned how someone maintaining her 6-pack throughout pregnancy could possibly have a healthy baby. Maybe they can all shush now, because hello. He's perfect.
We all know that how our bodies look while pregnant has little (if any) bearing on how healthy or big or small our babies turn out to be. Most of us know that super tiny mom with a minuscule bump who somehow had a 10-lb baby, or one who looked like she was smuggling a watermelon and had a 5-lb baby. The way our bumps look is really not a solid indicator of our future infant's health or size. So people should probably stop commenting on how big or small they expect a pregnant woman's baby to be based on how her body looks.
For her part, Duncan is already back at it with her fitness routine noting in a recent Instagram post where she's checking her progress after birth that she's "very happy and proud" of her post-baby body. As she should be. Staying in ridiculous shape is literally her job, and she's clearly nailing it. She's obviously not the average mom getting her body back after baby, but this is her truth. And her career. All we should be doing is cheering her on.
This article was originally published on