Modern-Day Parenting: Someone's Gonna Lose
by Rhonda Stephens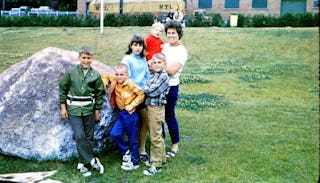 Mark T / Flickr / Creative Commons
Summer 1974: I'm 9 years old. By 7:30 a.m., I'm up and out of the house, or if it's Saturday, I'm up and doing exactly what my father, Big Jerry, has told me to do—might be raking, mowing, digging holes, or washing cars.
Summer this year: I'm tiptoeing out of the house, on my way to work, in an effort not to wake my children who will undoubtedly sleep until 11 a.m. They may complete a couple of the chores from the list I've left for them on the kitchen counter, or they may eat stale Cheez-Its that were left in their rooms three days ago, in order to avoid the kitchen at all costs and "not see" the list.
If you haven't noticed, we're getting a raw deal where this parenting gig is concerned. When did adults start caring whether or not their kids were safe, happy, or popular? I can assure you that Ginny and Big Jerry were not whiling away the hours wondering if my brother and I were fulfilled. Big Jerry was stoking the fires of his retirement savings and working and then working some more. Ginny was double-bolting the door in order to keep us out of the house and talking on the phone while she smoked a Kent.
Meanwhile, we were three neighborhoods away, playing with some kids we'd never met, and we had crossed two major highways on bicycles with semi-flat tires to get there. Odds are, one of us had crashed at some point and was bleeding pretty impressively. No one cared. We were kids, and if we weren't acting as free labor, we were supposed to be out of the house and out of the way.
My personal belief is that the same "woman with too little to do" who decided it was necessary to give 4-year-old guests a gift for coming to a birthday party is the same person who decided we are here to serve our kids and not the other way around. Think about it: As a kid, what was your costume for Halloween? If you were really lucky, your mom jabbed a pair of scissors in an old sheet, cut two eye holes, and you were a ghost. If her friend was coming over to frost her hair and showed up early, you got one eye hole cut and spent the next 45 minutes using a sharp stick to jab a second hole that was about 2 inches lower than its partner. I watched my cousin run directly into a parked car due to this very costume construction one year. He was still yelling, "Trick or treat!" as he slid down the rear quarter panel of a Buick, mildly concussed. When my son was 3 years old, we had a clown costume made by a seamstress, complete with pointy clown hat and grease makeup. His grandmother spent more having that costume made than she did on my prom dress.
At some point in the last 25 years, the tide shifted and the parents started getting the marginal cars and the cheap clothes while the kids live like rock stars. We spend enormous amounts of money on private instruction and the best sports gear money can buy, and adhere to demanding competition schedules. I'm as guilty as anyone. I've bought the $300 baseball bats with money that should have been invested in a retirement account, traveled to and from many an AAU basketball or travel baseball game to a dance competition in the course of one day and failed to even consider why. Remember Hank Aaron? He didn't need a $300 bat to be great. Your kid isn't going pro, and neither is mine, but you are going to retire one day and dumpster diving isn't for the elderly. My brother and I still laugh about how, when he played high school baseball, there was one good bat and the entire team used it.
Remember your clothes in the '70s or '80s? Despite my best efforts to block it out, I can still remember my desperate need to have a pair of authentic Converse shoes. Did I get them? Negative. Oh, was it a punch in the gut when my mother presented me with the Archdale knockoffs she found somewhere between my hometown and the next major city? Trust me. They weren't even close. Did I complain? Hell, no. I'm still alive, aren't I?
We've got an entire generation of kids spitting up on outfits that cost more than my monthly electric bill. There were no designer baby clothes when we were kids. Why? Because our parents weren't crazy enough to spend $60 on an outfit for us to have explosive diarrhea in or vomit on. Our parents were focused on saving for their retirement and paying off their house. The real beauty of it is that none of these kids are going to score a job straight out of college that will allow them to pay for the necessities of life, brand new cars, and $150 jeans, so guess who's going to be getting the phone call when they can't make rent? Yep, we are.
Think back—way, way back. Who cleaned the house and did the yard work when you were a kid? You did. In fact, that's why some people had children. We were free labor. My mother served as supervisor for the indoor chores, and the house had damn well better be spotless when my father came through the door at 5:35. The battle cry went something like this, "Oh, no! Your father will be home in 15 minutes! Get those toys put away now!" The rest of our evening was spent getting up to turn the television channel on demand, and only to what Dad wanted to watch.
On weekends, Dad was in charge of outdoor work, and if you were thirsty, you drank out of the hose because two minutes of air conditioning and a glass of water from the faucet might make you soft. Who does the housework and yard work now? The cleaning lady who comes on Thursday and the landscaping crew that comes every other Tuesday. Most teenage boys have never touched a mower, and if you asked my daughter to clean a toilet, she would come back with a four-page paper on the various kinds of deadly bacteria present on toilet seats. Everyone is too busy doing stuff to take care of the stuff they already have. But don't get confused, they aren't working or anything crazy like that. Juggling school assignments, extracurricular activities, and spending our money could become stressful if they had to work.
I don't recall anyone being worried about my workload being stressful. I don't think my father was even certain about my birthday until about 10 years ago. Jerry and Ginny had grown-up stuff to worry about. As teenagers, we managed our own social lives and school affairs. If Karen, while executing a hair flip, told me my new Rave perm made me look like shit and there was no way Kevin would ever go out with my scrawny ass, my mother wasn't even going to know about it, much less call Karen's mother and arrange a meeting where we could iron out our misunderstanding and take a selfie together.
Additionally, no phone calls were ever made to any of my teachers or coaches—ever. If we sat the bench, we sat the bench. Our dads were at work anyway. They only knew what we told them. I can't even conceive of my dad leaving work to come watch a ballgame. If I made a 92.999 and got a B, I got a B. No thinly veiled threats were made, and no money changed hands to get me that A. OK, full disclosure, in my case we would be looking at an 84.9999. I was the poster child for underachievement.
Back in our day, high school was a testing ground for life. We were learning to be adults under the semi-vigilant supervision of our parents. We had jobs because we wanted cars, and we wanted to be able to put gas in our cars and wear Jordache jeans and Candies. Without jobs, we had Archdale sneakers and Wranglers and borrowed our mother's Chevrolet Caprice, affectionately known as the "land yacht," on Friday night. No one, I mean, no one, got a new car. I was considered fairly lucky because my parents bought me a car at all. I use the term "car" loosely. If I tell you it was a red convertible and stop right here, you might think me special. I wasn't. My car was a red MG Midget, possibly a '74 and certainly a death trap.
Look at your coffee table. Now imagine it having a steering wheel and driving it. I promise you, it's bigger than my car was. The starter was bad, so after school I had the pleasure of popping the hood and using two screwdrivers to cross the solenoids or waiting for the football players to come out of the locker room headed to practice. Those guys pushing my car while I popped the clutch is a memory no 16-year old girl around here will ever have, and it's a great one. Had I driven that car in high winds, it's likely I would have ended up airborne, and there were probably some serious safety infractions committed the night I took six people in togas to a convenience store, but I wouldn't go back and trade it for a new 280Z, even if I had the chance.
I was a challenging teenager, and in retrospect, the fact that it was pretty impressive every time I made it home alive may not have been an accident on the part of my parents. Go to the high school now. These kids are driving cars that grown men working 55 hours a week can't afford, and they aren't paying for them with their jobs.
And those new cars don't do a thing for telling a good story. I tell my kids all the time, the very best stories from my teen and college years involve Ann's yellow Plymouth Duster with the "swirling dust" graphic, Randy's Valiant with the broken gas gauge, and Carla's burgundy Nissan that may or may not have had a complete floorboard. A story that starts, "Remember that time we were heading to the beach in Carla's Nissan and your wallet fell through the floorboard onto the highway?" is so much more interesting than, "Remember that time we were going to the beach in your brand new SUV, filled up with gas that your parents paid for, and the…well, no, never mind. Nothing happened. We just drove down there."
To top it all off, most of them head off to college without a clue what it's like to look for a job, apply for it, interview, and show up on time, as scheduled. If they have a job, it's because someone owed their dad a favor, and then they work when it "fits their schedule."
We all love our kids, and we want to see them happy and fulfilled, but I fear we're robbing them of the experiences that make life memorable and make them capable, responsible, confident adults. For the majority of us, the very nice things we had as teenagers, we purchased with money we earned after saving for some ungodly amount of time.
Our children are given most everything, and sometimes I wonder whether it's for them or to make us feel like good parents. The bottom line is that you never value something you were given as much as something you worked for. There were lessons in our experiences, even though we didn't know it at the time. All those high school cat fights and battles with teachers we clashed with were an opportunity for us to learn how to negotiate and how to compromise. They also taught us that the world isn't fair. Sometimes people just don't like you, and sometimes you'll work your ass off and still get screwed. We left high school as problem solvers. I'm afraid our kids are leaving high school with Mommy and Daddy on speed dial.
We just don't have the cojones our parents had. We aren't prepared to tell our kids that they won't have it if they don't work for it because we can't bear to see them go without, and we can't bear to see them fail. We've given them a whole lot of stuff; stuff that will break down, wear out, get lost, go out of style, and lose value. As parents, I suppose some of us feel pretty proud about how we've contributed in a material way to our kid's popularity and paved an easy street for them. But I don't, and I know there are many of you that are just as frustrated by it as I am. I worry about the things we've robbed them of, which I've listed below, in the process of giving them everything.
– Delayed gratification is a really good thing. It teaches you perseverance and how to determine the true value of something. Our kids don't know a damn thing about delayed gratification. To them, delayed gratification is waiting for their phone to charge.
– Problem-solving skills and the ability to manage emotion are crucial life skills. Kids now have every problem solved for them. Good luck calling their college professor to argue about how they should have another shot at that final because they had two other finals to study for and were stressed. Don't laugh—parents have tried it.
– Independence allows you to discover who you really are, instead of being what someone else expects you to be. It was something I craved. These kids have traded independence for new cars and Citizen jeans. They will live under someone's thumb forever if it means more cool stuff for them. I would have lived in borderline condemned housing and survived off of crackers and popsicles to maintain my independence. Oh wait, I actually did that. It pisses me off. You're supposed to want to grow up and forge your way in the world—not live on someone else's dime, under someone else's rule, and too often these days, under someone else's roof.
– Common sense is that little something extra that allows you to figure out which direction is north, how to put air in your tires, or the best route to take at a certain time of day to avoid traffic. You develop common sense by making mistakes and learning from them. It's a skill best acquired in a setting where it's safe to fail and is only mastered by actually doing things for yourself. By micromanaging our kids all the time, we're setting them up for a lifetime of cluelessness and ineptitude. At a certain age, that cluelessness becomes dangerous. I've seen women marry to avoid thinking for themselves, and for some it was the wisest course of action.
– Mental toughness is what allows a person to keep going despite everything going wrong. People with mental toughness are the ones who come out on top. They battle through job losses, difficult relationships, illness, and failure. It is a quality born from adversity. Adversity is a good thing. It teaches you what you're made of. It puts into practice the old saying, "What doesn't kill you makes you stronger." It's life's teacher. Our bubble-wrapped kids are so sheltered from adversity, I wonder how the mental health professionals will handle them all after the world chews them up and spits them out a few times.
I know you're calling me names right now, and mentally listing all the reasons this doesn't apply to you and your kid, but remember I'm including myself in this. My kids aren't as bad as some, because I'm too poor and too lazy to indulge them beyond a certain point. And I'm certainly not saying that our parents did everything right.
God knows all that secondhand smoke I was exposed to, and those Sunday afternoon drives where Dad was drinking a Schlitz and I was standing on the front seat like a human projectile were less than ideal. But I do think parents in the '70s and '80s defined their roles in a way we never have. I worry that our kids are leaving home with more intellectual ability than we did, but without the life skills that will give them the success and independence that we've enjoyed.
Then again, maybe it's not us parents who are getting the raw end of this deal after all.
This article was originally published on