Moderna Struggling To Find Enough Kids To Participate In COVID Vaccine Trial
by Julie Scagell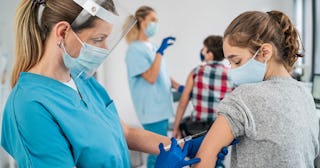 valentinrussanov/Getty
COVID has killed 172 children to date and now Moderna wants to release the vaccine, but not enough kid volunteers are signing up
Moderna is actively signing up teens for a coronavirus vaccination study, but unfortunately, not enough adolescents are signing up, which could delay vaccine authorization for this age group. Here's what's happening with the vaccine trials and how your kids can sign-up for the trial if you feel comfortable with it.
Last month, the U.S. Food and Drug Administration approved the Pfizer-BioNTech vaccine for 16 and 17-year-olds, as well as adults. Moderna hadn't yet tested its vaccine on this age group, so it's currently only approved for those 18 and up, according to USA Today. When Moderna began the trial for 12 to 17-year-olds about a month ago, they announced they were struggling to find volunteers.
Per USA Today, the study needs at least 3,000 participants, said Moncef Slaoui, the scientific head of Operation Warp Speed, in order to ensure its safety and get approval from the FDA. As of today, the trial is only getting about 800 volunteers per month.
"It's really very important for all of us, for all the population in America, to realize that we can't have that indication unless adolescents aged 12 to 18 decide to participate," said Slaoui.
Once they get enough participants, Moderna's study will test the vaccine in adolescents as young as 12 and CEO Stephane Bancel tells CNBC that she believes this trial will be done by September, however, she expects to start a study for young children between ages one and 11 "soon," but says it will take "much longer" to get results, and we may not know how children under 12 react to the vaccine until 2022.
At least 172 US children have died from COVID-19 since the pandemic began, and many others have gotten seriously ill. While teens tend not to get very serious cases of COVID-19, they can spread the virus to others more at-risk for developing serious cases or dying from it. At least two million children under 18 were diagnosed with COVID-19 in 2020.
But the impacts to teens and adolescents is much greater than contracting the virus alone. Kids are missing out on in-person learning, sports, and others activities. This fall, U.S. counties with large colleges or universities that started the year with in-person learning saw a 56% increase in COVID-19 cases and colleges were routinely in the news because of super spreader events like house parties.
"At this time, it appears that severe illness due to COVID-19 is rare among children," the American Association of Pediatrics said. "However, there is an urgent need to collect more data on longer-term impacts of the pandemic on children, including ways the virus may harm the long-term physical health of infected children, as well as its emotional and mental health effects."
Study volunteers who choose to participate will be followed by medical staff for a total of 13 months. If you want to learn more and register your child, visit the link here. Participants must be between 12 and 17 years old, have never tested positive for COVID-19, and be in good health to qualify.