Meteorologist Reminds Rude Viewer She Doesn't Need Wardrobe Advice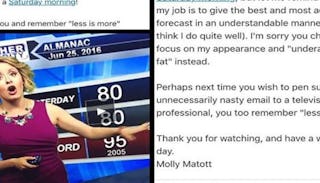 Meteorologist Molly Matott received an email criticizing her body, clothes, jewelry
After getting a nasty email completely unrelated to her job as a meteorologist, Molly Matott shut down a hater in a brilliant way. After working the Saturday shift at her Syracuse television station, Molly Matott received a rude email filled with a viewer's comments, that for the record, no one needed, asked for, or cares to hear.
The viewer "didn't want to be mean" but proceeded to do just that in a lengthy comment that has absolutely nothing to do with Matott's responsibilities as a meteorologist, WUSA 9 reported. "I don't know, of course, who dresses Molly and I'm not trying to b mean or unkind but the way she is dressed today looks very much like she came directly from a night on the town to work!" the unidentified woman wrote. Having worked in news for many years, I can tell you that no one dresses Matott but herself. She works at a local television station. This isn't Good Morning America; there isn't a stylist on set every day.
The writer goes on to say, "Good grief, have a little decorum and be more understated and conservative in your attire." If you glance at the photo of Mattot above – showing the outfit the viewer complained about – you'll notice that almost all of her body is covered, but her arms. That is pretty conservative, especially considering how hot television lights are in the studio.
"There are so many things going on here and none of them are good, the range is from underarm boob fat, garish jewelry, clashes in color, AND makeup….I just turned on my television set and was shaken to the core (almost) at the sight of all of that going on this early on a Saturday morning!" Really? If you're that shaken to the core about someone's appearance, then you've been living life all wrong.
If you're a female reporter, anchor, or meteorologist you grow accustomed to unsolicited advice on your appearance. When I worked in TV news, we received endless comments every single day about what our female journalists and weather experts' clothes, jewelry, makeup, and current weight. My friend and former colleague Amy Sweezey received so much hate mail that she wrote a blog post shutting their shit down.
"Very rarely was there a complaint about my actual forecasting skills," Sweezy shared in her response to her haters. Which was the same theme for Mattot, who responded to her viewer in a brilliant way. She reminded them that her job is to give the best and most accurate forecast in an understandable manner. Her Instagram post detailing the response she sent is now private, but you can see part of it in the photo above.
In the caption of the photo, she wrote, "I was feeling WAY TOO GOOD about myself today to NOT reply to this nasty email (top left). If anyone else has any comments on my 'underarm boob fat,' I'll take them now. UPDATE: this person wrote back and could not understand my reaction to their 'constructive criticism.' Girl bye."
Hell yeah, Molly Mattot!
Remember, viewers of the news and weather, a professional woman doesn't need your critique on her appearance. Like mom always said, if you don't have something nice to say, keep your damn mouth shut.
This article was originally published on