Merck's New COVID-19 Pill, Molnupiravir — Here's What We Know
by Kristen Mae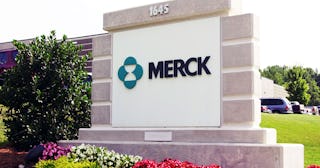 Erik S. Lesser/Getty
The latest weapon in the battle against COVID-19 is a treatment by drugmaker Merck and its partner Ridgeback Biotherapeutic. Molnupiravir is not a vaccine, though, and nor is it an IV or injection treatment — it's a pill. Merck has requested emergency authorization from the Food and Drug Administration on Monday, October 11, and the decision may come within weeks.
Why Is Molnupiravir's Pill Form Such A Big Deal?
The drug could be a huge game changer, in large part because of the fact that it's a pill, as opposed to an IV or an injection, like Gilead Science's antiviral remdesivir, and the monoclonal antibody cocktail from biotech firm Regeneron. These are the only methods of FDA-approved treatments currently available.
Treatment in pill form would allow doctors to prescribe their patients something they could simply take home with them to ease their symptoms and allow them to recover more quickly. With IV and injection treatments, a patient is typically unable to receive treatment until they're so sick that they need hospitalization. In particular, remdesivir is only approved for patients currently hospitalized with COVID-19.
Relief For Our Healthcare System
The impact that an antiviral treatment in pill form could provide to our overburdened healthcare systems is still unclear, but it's not unreasonable to believe it could be positive and far-reaching. Healthcare workers have been under extreme stress for the past year and a half, trying to manage the waves of COVID-19 positive patients needing treatment on top of all their other usual patients. Healthcare workers are exhausted.
Moreover, many Americans have been putting off or unable to access important healthcare from annual checkups to more serious conditions, often allowing those serious conditions to further deteriorate. In some cases, people have died while awaiting care, even for non-COVID-19-related emergencies. The fewer people hospitalized, the better for everyone — not just people who have COVID-19.
As it stands, the FDA is reviewing the data from Merck and its partner Ridgeback Biotherapeutic, who requested emergency FDA approval for adults suffering from "mild-to-moderate COVID-19 who are at risk for severe disease or hospitalization," according to AP News. COVID-19 infusion drugs have been prescribed under the same risk profiles (though, as noted before, with remdesivir, a person must already be hospitalized), but the big hope here is that the pill form will prevent hospitalizations and deaths.
Findings From Merck's Molnupiravir Trial
Merck and Ridgeback Biotherapeutic say they estimate that molnupiravir has the potential to cut COVID-19 hospitalizations and deaths by half. According to AP News, independent medical experts who were monitoring the molnupiravir trial were so convinced by the strong results that they recommended stopping the trial early. The information on reported side effects is also very positive — the side effects reported by participants who were given molnupiravir were similar to those who received a placebo.
According to the press release by Merck and Ridgeback Biotherapeutic, "Molnupiravir reduced the risk of hospitalization and/or death across all key subgroups." The amount of time a study participant had been sick with COVID-19 did not impact the efficacy of the drug. Nor did their underlying risk factors.
Molnupiravir also proved to work consistently across the variants Gamma, Delta, and Mu, for the trial participants for whom it was known which variant they were infected with (40%). It works by interrupting the replication of SARS-CoV-2 inside our cells — it causes it to "mutate itself to death," according to an article in Nature.
When It Comes To COVID-19, A Two-pronged Approach Remains Key
Treatments like molnupiravir will likely prove important in the battle against COVID-19, but officials continue to recommend vaccination as the best proactive defense. Unfortunately, a whopping 68 million vaccine-eligible Americans continue to refuse to be vaccinated.
Surely, as they have done with other treatments available only in moments of desperation, they'll continue to throw away the privilege of getting a free, potentially life-saving vaccine — which is available thanks to the expertise of science and the medical community — in favor of waiting for their doctor to prescribe them a pill — which is available thanks to the expertise of science and the medical community — when it finally hits them just how sick they are and they have no other choice but to surrender to science.
Pfizer and Roche are also developing treatments in pill form, the results of which we'll likely see in the next few months.
This article was originally published on