Mom's Advice To Babysitters: 'Name Your Price And Stand Confidently In It'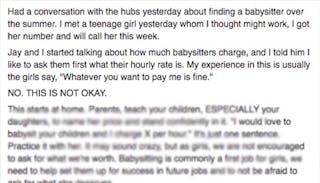 This mom has smart advice for babysitters who don't know what to charge
When looking for a new babysitter, the first question most parents have is: how much do you charge? But, all too often, that new sitter doesn't have an answer. They'll say something like, "You can decide," or, "Whatever you want to pay me is fine." It's nice for parents because we get to set our own rates, but as one mom recently pointed out in a thought-provoking Facebook post, it's also a missed opportunity for young sitters to learn a lesson about asking for what they're worth.
North Carolina mom Andrea Owen recently wrote on Facebook that she's seeking a babysitter over the summer and started talking with her husband about one of her biggest pet peeves: the salary discussion. "Jay and I started talking about how much babysitters charge, and I told him I like to ask them first what their hourly rate is," she said. "My experience in this is usually the girls say, 'Whatever you want to pay me is fine.' NO. THIS IS NOT OKAY."
Owen went on to make an excellent argument for why every babysitter should be ready and willing to name their price, and why parents should help them do that. "Parents, teach your children, especially your daughters, to name her price and stand confidently in it," she wrote."'I would love to babysit your children and I charge X per hour.' It's just one sentence. Practice it with her."
Continued Owen, "It may sound crazy, but as girls, we are not encouraged to ask for what we're worth. Babysitting is commonly a first job for girls, we need to help set them up for success in future jobs and to not be afraid to ask for what she deserves."
Can I get an amen?
Negotiating pay rates and asking for the salary you deserve is difficult even for adults. I'm 30 years old, and still struggle with being assertive about how much I'd like to get paid. As a teen, I know for a fact I wouldn't have had the courage to name my price, but Owen is right: that's not okay.
According to the Institute for Women's Policy Research, women make, on average, about 79 cents for every dollar earned by a man. That extends to all fields, and affects women at every level on the corporate ladder. The pay gap is even wider for Black, Hispanic, Latina, or Native American women. Learning to negotiate pay and ask for what we're worth won't necessarily solve that problem, but for many girls and women, it's a small but important step in the right direction.
Babysitting is a great way for teens to earn extra cash, but it's also usually their first experience working and managing their own money. Like Owen says, we need to set those young babysitters up for success, not only so they earn what they're worth while caring for kids, but also so they learn how to ask for what they deserve in the real world, when the stakes are much higher.
This article was originally published on