Mom's Viral Hack For Getting Babies To Take Medicine Is Pure Genius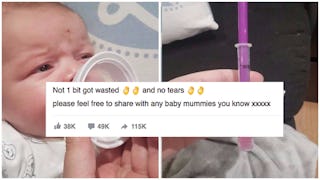 Image via Facebook
The medicine hack itself is so simple, and you already have everything you need
As any parent can attest to, children and medicine don't mix. Even infants make their displeasure known when it comes to anything even remotely "medicine-y" tasting, no matter how much Cherry Red Dye 40 is mixed in there to mask the taste. This is why one mom's hack for getting babies to take their medicine is so genius, moms everywhere will be copying it immediately.
Helena Lee, a British mom and nurse practitioner, recently became distraught when her infant son, Alfie, came down with a fever. Luckily, she remembered a trick she was taught and poof! Instant baby + medicine hack.
It's so simple, you'll be wondering why you didn't think of it yourself.
"So for the last 24 hours I've struggled to get Alfie to take CALPOL, he has ended up covered in half of it where he spits it at me," she wrote.
For those wondering, CALPOL is similar to Infants' Tylenol. And anyone who's had a baby is intimately familiar with Infants' Tylenol. And the little syringe applicator that comes along with it, to make it "easier" for babies to ingest. Yeah, right. My daughter never minded the taste of Tylenol at all (holler for that sugary, grape flavor) but the syringe wasn't exactly our best friend during her baby days.
You can find the same medicine hack on Pinterest, too:
"Then I remembered seeing this trick," Lee writes. In her now incredibly viral post, she shared three photos where we can see the CALPOL syringe nested in the nipple of a baby bottle. Alfie's shown sucking away at his medicine as mom slowly distributes the medicine to him via his beloved bottle nipple. That way he's getting the fever reducer he needs through a means of recognizable comfort, and not some off-putting plastic syringe.
See? GENIUS. And so, so simple. We guarantee moms everywhere will be using this as their go-to to for getting their sick little ones feeling better quickly.
This article was originally published on