38-Year-Old Mom Goes Viral With Stunt She Was Afraid To Do As A Teen Gymnast
by Madison Vanderberg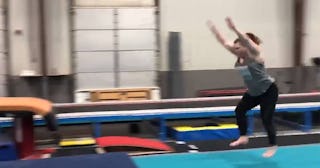 Nicole Clemens/Twitter
Missouri mom impresses internet with gym stunt she was too afraid to do as a teen gymnast
A 38-year-old mom of two from Missouri just mastered a gymnastic move she couldn't pull off when she was a teen, and now none of us can ever say we're too lazy or too old to do anything ever again. Nicole Clemens literally shattered the internet when she shared a video of herself doing an impressive backflip, soaring high into the air, and landing a spectacular finish. To quote the members of the Navarro Cheer team, "you just made mat."
"In the spirit of being freaking proud of myself and also knowing I'm about to be fat shamed on the Internet, I present to you me, a 38 year old mom and teacher, doing a thing I was afraid to do when I was a 14 year old gymnast. Next week: add a full (and straighten my legs)."
Clemens told Buzzfeed that the move in the video is actually roundoff back layout and though she thinks she needs to straighten her legs, we dig it. Clemens also told Buzzfeed that she did gymnastics as a teen and now her daughter is an advanced competitive gymnast herself. Clemens is a high school English teacher, but in her free time, she coaches a recreational gym team and takes adult gymnastics classes for fun, which is where she reacquainted herself with the roundoff back layout.
"It took me about 25 years to land this layout," she told Scary Mommy. "If you count being afraid of it as a kid and then taking 24 or so years off. About a year ago I started taking this adult gymnastics class and I've been working on tumbling in general during that time. I had to build back up from very basic skills and a few months ago my coach asked when I was going to upgrade to this layout skill. That was the push I needed to make it happen."
We — like everyone else on the internet — absolutely bow down to this woman's skills.
Even Olympic gymnast Nastia Liukin weighed in!
In an interview with Sky News, the mom of two said, "I don't look like a gymnast, like I did when I was 14, but I can do this and that is very cool." And to the people like us who are like, girl I'm winded just trying to carry multiple groceries into the house, Clemens thinks anyone can learn a gym stunt like her, as long as you're willing to try.
"I mean, if I can do it, I really do believe that most anyone can," Clemens added. "It takes a little bit of practice, a whole lot of hubris and a willingness to fail spectacularly. I don't think I'm a physical specimen that's different in any way, I'm just willing to fall a lot."
As for her newfound fame as an inspirational social media influencer, Clemens joked to all her new followers that "I'm sorry to disappoint 90% of you in the coming weeks when you realize I mostly rage tweet about teaching English and also non-rage tweet about donuts."
Tweets about donuts and inspiring gym footage that reminds us we're powerful and badass queens? Oh, we're all over this.
This article was originally published on