Mom's Genius Glow-In-The-Dark PJ Hack Will Make Bedtime Way Easier
by Sarah Bregel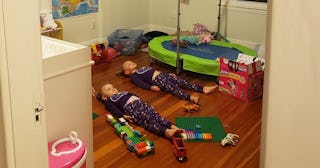 Courtesy of Jessica D'Entremont
This mom's creative bedtime solution is breaking the internet
We all know the struggle: your kids won't stop running around the house, yelling, and going wild. Bedtime is nearing and a meltdown is fast approaching. All you want is one moment of quiet and hopefully, to settle them down for bed. In fact, you need a moment of quiet or you're likely going to lose your cool, and then, you'll be the one melting down.
A Massachusetts mom, Jessica D'Entremont, recently found herself smack in the middle of that very struggle one evening and her solution was downright brilliant. She needed a minute, and for her kids to chill out. She told her two girls to lay still in their glow-in-the-dark pajamas so they could "charge." Because… of COURSE those things need to charge, right? It may be a bit of a white lie but it's too good to care.
Jessica documented the girls' moment of blessed stillness and shared it with her Facebook followers. Now, it has the internet buzzing about how she solved this well known dilemma. And for good reason. It's just too funny.
In the picture Jessica shared, the two girls, Hannelore, 3, and Emma, 4, are lying side-by-side on a hardwood floor, adorably staring up at the ceiling. You can tell they are really intent on making sure their pajamas are well-fueled for the whole night. LOL for days. Jessica posted about the event on Facebook just a few days ago and it's already racked up over 100k shares. Clearly, people are enthralled with her creative (and downright hilarious) solution.
Jessica tells Scary Mommy that both the girls have sensory processing disorder and that sometimes, finding downtime can be really crucial for their family. "Their routine was disrupted due to a fundraiser I had that morning for my work… So they were particularly hyper and running around on the verge of meltdown." But Jessica anticipated what was about to happen and came up with the smart idea. "Whipped out the PJs which had been packed away in the back of a drawer, so I told them they needed to lie very still to charge them. And they did!"
The plan worked instantly, she said, and it gave her a tiny bit of free time, too. "I got 10 minutes to quietly put clothes away. I had to actually tell them it was time to get up for bed. We have been trying it nightly as a way to calm little bodies before sleep along with our Young Living Essential Oils which we were already using!"
Sometimes moms just need a break and this is a pretty solid tactic. Not only because it gave Jessica a valuable 10 minutes and diverted a meltdown, but because the girls seemed to enjoy themselves, too, and they calmed down for bedtime, which was the whole goal. A little white lie never hurt anyone. In this case, it gave this mom a well-earned moment of sanity.
Hey, whatever does the trick.