Mom's Photo Breastfeeding Her Baby Through Chemo Goes Viral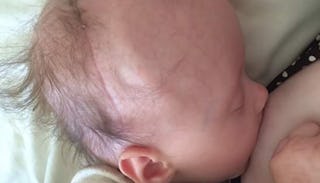 Image via Facebook
Mom breastfeeds her infant to provide comfort during chemo treatments
A photo of a mom breastfeeding her infant is going viral for a heartbreaking reason. She's nursing her daughter through chemotherapy treatments, as the little one was born with cancer. Their breastfeeding relationship is proving to be a huge comfort to them both during the most difficult time imaginable.
Mom Anastasia Pittis shared a stunning photo of her daughter Xenia nursing on the Facebook page Breastfeeding Mama Talk with no idea what an impact it would have. Pittis tells Babble, "The reaction has been pretty incredible. I was really surprised that the picture got so much attention and that others were being so supportive."
Six-month-old Xenia was born with stage 3 brain cancer and in the photo, her surgery scar shows as she happily nurses. It's a gut-wrenching image, but seeing her comforted by breastfeeding has many cheering Pittis on as she continues to nurse her daughter throughout treatment. Sadly, the supportive comments also include many readers sharing their own stories of infants with cancer.
I'm breastfeeding my 20 month old through treatment for neuroblastoma. It has been a lifesaver because no matter how sick or nauseated she is, she wants to nurse. My baby was diagnosed at 16 months and we were told she was potentially born with it. It is a shattering thing to go through.
My son is also receiving Chemo at this time in preparation for a bone marrow transplant to treat MPS-1 Hurler Syndrome. I am also breastfeeding and hoping that it will combat some side effects from the chemo.
My daughter was born with cancer in her air way and could not breath on her own, so she had a trach put it at 3 days old. It's scary as hell and it's so hard when there is not much you can do. I'm happy for you that you get to breastfeed you baby thru this, I wish I could have for my daughter but I couldn't.
Statistics show that cancer in infants is actually incredibly rare, but that's not much comfort to the parents and children that endure it. In Xenia's case, her doctor decided to have an MRI done after the baby's head seemed large at her two-month well visit. Unfortunately, the news wasn't good.
"An MRI scan revealed that she had hydrocephalus (fluid in the brain), caused by a very large brain tumor. We were then rushed to the Children's Hospital Colorado to seek treatment. The aggressive and large size of the tumor indicated to doctors that Xenia was born with it," Pittis explains on a Facebook page set up to keep people updated on the baby's condition.
But through it all, being able to nurse Xenia has made a huge difference. "During this journey, breastfeeding has become very important. Besides being a huge bonding experience, it gives me peace of mind knowing that she'll still latch on and eat even when she isn't feeling her very best," Pittis tells Babble.
No mother wants to see her child sick or in pain, and we will all do whatever we can to make it better. This mom is no different, and seeing her relief that she's able to comfort her baby during a time where she needs all the soothing she can get is something any parent can relate to.
Pittis explains on Xenia's Facebook page that her kind of cancer has a 95% chance of reoccurring, but that right now, the baby is improving. "Right now she seems to be doing fairly well in comparison to how she's been before, with everything she's gone through." Hopefully, her condition continues to be on the upswing.
If you'd like to donate to support Xenia and her family, you can do so on their GoFundMe site.
This article was originally published on