'F*cket Bucket' Cleaning Hack Might Actually Get Kids To Tidy Up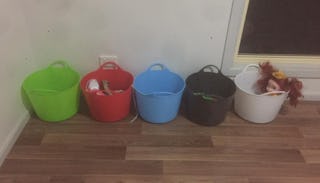 Image via Mishmash Moments/Facebook
A mom's idea for making her kids clean up their clutter went viral for a reason — it's brilliant.
Raise your hand if you're one million percent done picking up everyone else's crap that they leave lying around the house. I am raising my hand right now and I guarantee a bunch of you are too, because it's maddening. That's why this mom's completely genius idea is the solution we all need to end the kid (and husband) clutter madness.
Jessica McGinty is the mom behind the Facebook page Mishmash Moments — and is also a cleaning wizard, apparently. She's come up with a way to get her kids to pick up all the stuff they abandon around the house and now, we all need to steal her amazing idea. It's called the Fucket Bucket. And y'all, it works.
"Today I got the kids fucket buckets
," she writes. "If they leave it laying around, it goes in their bucket. If it's still there at bedtime it goes in the bin because fucket if I'm cleaning it up."
Hell. Yes. I'm standing and cheering. I literally just finished wandering the main floor of my home gathering violin sheet music, library books, Legos, Kindle chargers, LOL dolls, a Spider-Man pillow, an apple, a chapstick, and two empty water bottles. All of that junk was left on random surfaces in my home over the course of about 12 hours, and sure, I could follow my kids around and make them pick it all up, but the monitoring is just more work for me.
Now I know. I need fucket buckets so freaking badly.
McGinty tells Scary Mommy the buckets have been a total game-changer at her house. "We're a blended family of five, nine and under – nine, seven, seven, six, and two. It's working well so far. I can wander around and pick up any missed things and drop them in the buckets and the kids love them, knowing exactly where things they've missed are," she says.
Her post went very viral — which she didn't expect at all. I guess she had no idea how much us parents needed this. "The response has been crazy to be honest! I had no idea it would resonate so much," she says. McGinty also sees a possible business plan resulting from her innovative idea. "I might have to release a sticker line for buckets or something."
Let me know when you do — I'll buy a dozen.
This article was originally published on