Dad Pens Heartbreaking Note About Wife Carrying Child For Organ Donation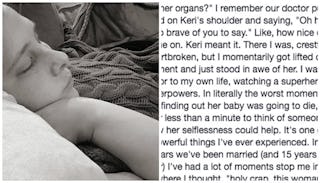 Mom chooses to carry daughter to term to donate organs in hopes of saving other lives
One husband's public letter about his wife and their unborn child offers a candid look into just how selfless and courageous people can be when facing monumental loss. Keri and Royce Young are expecting a baby girl they've named Eva, meaning life, in early May. They found out their during their 19-week ultrasound that their daughter had anencephaly and the diagnosis was terminal. She would be born without a brain.
In that moment of devastation, Keri did something many of us would not have the capacity to do. She saw past her own grief and asked her doctor, "If I carry her full term, can we donate her organs?"
In a heartbreaking tribute on Facebook, her husband Royce details the journey they've been on and their decision for Eva to become an organ donor. "I was a spectator to my own life, watching a superhero find her superpowers. In literally the worst moment of her life, finding out her baby was going to die, it took her less than a minute to think of someone else and how her selflessness could help. It's one of the most powerful things I've ever experienced," Royce wrote. "She's cut from a different cloth, combining wit, beauty, courage, silliness, character and integrity into one spectacular woman. And somehow, she's my wife."
The couple, parents to a 2-year-old son named Harrison, have been public about their story since receiving Eva's diagnosis. They hope to bring awareness to organ donation and educate people on other children desperate for life-saving organs. "There's another family out there hurting and hoping for a miracle for their baby, knowing full well someone else's baby will need to die first. Eva can be that miracle," Royce said.
Keri will go through all of the nuances of pregnancy. She will be asked by strangers about her growing belly. Are they excited for a little girl? Well-meaning questions asked of all expecting mothers, knowing her daughter will not survive. Royce said, "Keri has been in the trenches the entire time, feeling every little kick, every hiccup and every roll. She's reminded every moment of every day that she's carrying a baby that will die." She is suffering all of this heartache so that someone else's child can live and to hold her daughter for as long as she is given.
It is so easy to take for granted your child's future. As a parent you plan and dream about what your child will become. Royce talks about the certainty of Eva's loss, eyes wide open to all they will be missing. "I want her to blow out her candles on her first birthday. I want to watch her bang her head on our coffee table trying to learn to walk. I want her to run up a cell phone bill texting boys. I want to walk her down an aisle. I want to change it all so, so badly. But I can't. This is our reality. And there's no stopping it."
This article was originally published on