'We Said Hello And Goodbye': Mom Carrying Child For Organ Donation Gives Birth
by Megan Zander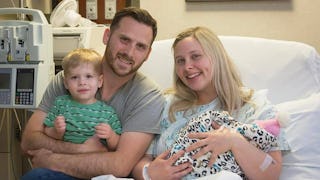 "We said hello and goodbye"
Keri Young and her husband Royce both welcomed and said goodbye to their daughter Eva last week. Even though her time on this planet was short, little Eva's impact will be here forever.
During their 19 week anatomy scan last December, the Youngs learned that their daughter had anencephaly, a terminal diagnosis where the infant is born without much of their brain. Keri made the selfless decision to carry the baby to term in hopes of donating her organs to others in need of a transplant. Her husband's letter of admiration went viral, earning them many well wishes from people far and wide. "I was a spectator to my own life, watching a superhero find her superpowers," he wrote. "In literally the worst moment of her life, finding out her baby was going to die, it took her less than a minute to think of someone else and how her selflessness could help. It's one of the most powerful things I've ever experienced."
Keri documented the birth with a family photo, complete with the couple's two-year-old son Harrison.
"We said hello and goodbye to our sweet Eva yesterday," she writes. "She was so perfect in her own little way."
Royce shared a photo of a special moment between a dad and his daughter.
While the Youngs have yet to share the details surrounding Eva's birth, they've been very open with their decision and journey leading up to this moment.
Although the idea of donating her daughter's organs came to her at the time of the ultrasound, Keri shared how difficult the decision really was to make. This past December she wrote about how after taking some time to talk openly with their pastor and each other, they finally made the tough choice. "Decision made," she wrote. "We were continuing on with the pregnancy. Eva will have life even though it will be short. She'll donate anything she can and do more in her time on earth than I ever will."
The couple was in contact with the LifeShare team throughout Keri's pregnancy. While the couple has yet to share whether they were able to successfully donate Eva's organs, their dedication and commitment to helping other families is inspiring.
The Youngs are determined to reflect on Eva's journey with positivity. "This is NOT a sad post," Keri said at the end of each of her updates on the pregnancy and on the photo taken at Eva's birth. "Don't hit that button."