Mom Claps Back To Idiot's Unwanted Fashion Advice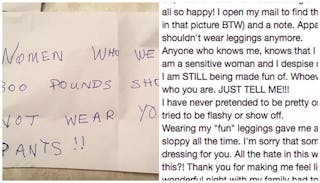 Plus-sized mom gets letter telling her to stop wearing leggings
On November 18th, substitute teacher Kelley Markland from Port Orange, Florida received an anonymous letter in the mail. Inside the envelope, which came with no return address, there was a note that said, "Women who weigh 300-pounds should not wear yoga pants!!" There was also a printed-out meme that showed a heavy woman in leggings on the top and a picture of the character Ron Burgandy on the bottom with the quote: "Your pants say yoga but your ass says McDonalds."
So, just to sum up — someone out there took the time to put this little envelope of hate together and mail it to a stranger just to make her feel like shit. I know. It doesn't make any sense. Hang on.
Markland, who used to wear nothing but black clothes in an attempt to, as she told Babble, "hide and not stand out," had recently started wearing leggings because, as she discovered, leggings are the fucking bomb. "As a plus-sized woman, your options are limited. I got compliments [on my leggings] and started feeling better in what I was wearing. The more I wore them, the more I wanted to keep wearing them because I felt pretty and good in them. I'm happy I finally have the confidence to wear something that isn't solid black."
In her post that night, Markland wrote, "I have never pretended to be pretty or look good in clothing, I have never tried to be flashy or show off. Wearing my 'fun' leggings gave me a tad bit of confidence in not looking sloppy all the time." That's heartbreaking to read because it's clear that people like the abyss of rotting phlegm who sent her that letter have made her feel like she has no right to feel pretty or show herself off. And just as she was starting to put herself out there…BAM. Some piece of asshole fungus comes to try to ruin her day.
Markland's post has gone viral, gaining the attention of national media and prompting thousands of people to send her supportive and righteously outraged texts and comments. Many women have even posted pictures of themselves in their leggings on her page. "Several teachers from my kids' school wore leggings to show their support," she told US Weekly. "I was blown away."
Just a day later, she posted a video on her Facebook page thanking everyone and sharing the positive effects of her experience. "Today I found that this tiny little bit of negativity that got put out started the most positive ripple effect that I've ever encountered in my entire life," she says in the video. "And I am so blessed, and so grateful for all of you. I am eternally grateful for every message, for every comment, for every text, and I love you all so much."
Markland's horrendous fat-shaming did indeed lead to an outpouring of positivity and self-acceptance. And Markland, the mother of a 10-year-old and an 8-year-old, is using the situation to teach her children about bullying. "They got a first-hand account of seeing how I felt. It's one thing to talk about bullying, but when you see the after-effects of it actually happening, that's a real-life image and a real-life picture for them to see."
Markland has managed to take this experience and turn it into something positive. She says she feels "more empowered" than ever and has even thanked the writer of that letter. Markland is clearly a much better person than many of us are, and I for one would like to take this opportunity to not thank the person who wrote that letter:
Whoever wrote this letter — there's no power in anonymous cruelty. There's a reason people say that bullies are cowards, and you've proven it. The only reason you send an anonymous letter is because you know that what you are going to say is awful and you're too afraid to look another human being in the eyes and say it. So, we know you're a coward. We also know that you hate women. That note didn't say "people who weigh 300-pounds," it said, "women who weigh 300-pounds." So, yeah. We're familiar with your type. As with most misogynists, you seem to think that women should dress to please you. You — the kind of person who would send someone such a hateful letter. That's like saying, "You know, Hitler would have hated you in that dress." No one cares. Your approval is meaningless.
On behalf of women everywhere, we hope a) that you've learned something from the response that Markland has gotten to your letter, and b) that you find a minute or two to kiss our gorgeous asses. In fact, Kelley has thoughtfully provided a few for you to start with.
This article was originally published on