Mom Drops Daughter Off At College Orientation, Starts Living Her Best Life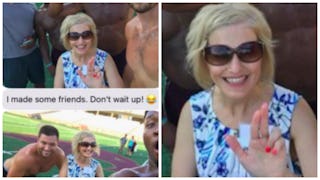 Image via Twitter
She saw a golden opportunity and took it
Most parents sending their kid to college for the first time are full of tears and worry. Will they make friends? Will they miss home? Is it wrong to immediately turn their old bedroom into a yoga studio? It's an emotional time for sure, but one mom doesn't look all that torn up about it, as she had more fun at freshman orientation than her daughter.
Because when the kid's away, mom can play. Finally.
When Avery Leilani Foster's mom dropped her off for Texas State University's freshman orientation, the 18-year-old had no clue her mom was about to become a viral sensation. After she left and the teen was on her own, she received a series of texts and photos from her mom that has the internet in an uproar.
Oh. My. God. We bow down to Avery's mom. This is everything. Obviously, Twitter agrees, as the photos have been liked an astounding 400,000 times. Let's be clear — as a teen, this would've mortified us. As moms? We're nothing but proud.
According to Babble it was the mom's boldness that netted her this amazing collection of hot, football player selfies. The school was holding a dinner and photo contest for parents on the football field while the team was practicing nearby. Avery's mom walked right up to them and asked to take a few pictures.
Clearly, they were here for it.
"I made some friends, don't wait up!" came the sassy text from mother to daughter, along with photos of totally drool-worthy football players who are practically young enough to be my son, oh dear God hold me.
They even let her have the ball for a bit and one mock-tackled her. Like, he touched her. We're insanely jealous.
We bow down to Avery's mom. She's the Cougar Queen and we merely live in her world. She found a bunch of hot football players and took adorable selfies with them only moments after dropping her child off for the first day of college orientation. She's an absolute inspiration.
Some moms wonder about their identity and place in the world once their kids grow up and leave home, but these photos tell us that Avery's mom is ready for the next phase of her life. And it includes incredibly hot young athletes and a big smile on her face.
Basically, we should all want to be this mom's BFF. Of the photos, Avery says this is pretty much how her mom rolls all the time. "This did not shock me. My mom is very silly, weird, and has a bit of a wild side sometimes."
Good for her.
This article was originally published on