Let This Viral Video Be A Reminder, Moms -- Your Health Matters Too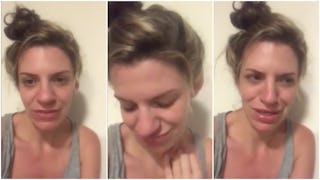 Image via Jennifer Waller / Facebook
As a working mom of two, Jennifer Waller didn't think anything of feeling run down — until it was cancer
For moms, especially the ones who work, feeling exhausted can definitely start to feel like the norm. That was certainly the case for 32-year-old mom Jennifer Waller, who never dreamed the real cause of her feeling a little run down was colon cancer.
"When I woke up and [the doctor] told me I had a large tumor, it was a complete shock, because I can't have cancer," Waller said in a video posted to Facebook, which is now going viral. "I mean, I'm a nurse. I take care of people. I tell you if you have cancer. I treat you. I can't have cancer. Yet, here I am."
Waller explained that she went in for a colonoscopy after experiencing what she called "vague" symptoms, including stomach pain and weight loss. For a while, she had chalked it up to just being a little tired.
"I mean, I work two jobs, I have two children and I run around like a crazy person," she said.
Because that's how women are conditioned to deal with illness, right? We're expected to kind of suck it up, and it's actually a proven, researched phenomenon that doctors take men more seriously when they have health concerns. Meanwhile, women are often dismissed, misdiagnosed and told their symptoms are signs of age and exhaustion.
With that kind of lifelong conditioning, it's no wonder Waller tried to dismiss her own symptoms. By the time she did get checked out, she said the cancer could be detected in her blood and her lymph nodes.
"It's spreading fast," she added.
But gender bias in healthcare isn't the only issue here. Waller is now urging people to take even mild-seeming symptoms seriously, and get screened early for illnesses like colon cancer. If she had followed screening guidelines for colon cancer, she said, she would certainly have died.
"I made this video because here in the United States, you don't screen until you are 50 years old," she said. That is 18 years from now. According to my biopsy, I would be dead. If I hadn't gone in… I would have been dead."
She added, "So please, get screened. Get checked, because you never know. Your entire world can change in a moment."
Hopefully everything turns out OK for Waller. But let her story be a warning to all women that we need to take our health seriously and advocate for ourselves and our care.