Toddler Toting Mom Confronts Head Of EPA At Restaurant: 'I Want You To Resign'
by Julie Scagell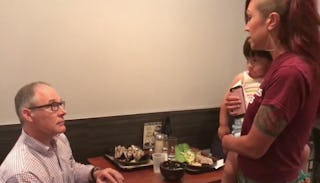 Image via Facebook/Kristin Mink
She held her son, telling Pruitt 'He likes clean air'
A concerned mother confronted Trump's Environmental Protection Agency Administrator Scott Pruitt in a DC restaurant this week, urging him to resign.
"EPA head Scott Pruitt was 3 tables away as I ate lunch with my child. I had to say something," Kristin Mink wrote on her Facebook page. "This man is directly and significantly harming my child's — and every child's — health and future with decisions to roll back environmental regulations for the benefit of big corporations, while he uses taxpayer money to fund a lavish lifestyle."
In a video, Mink — who is also a schoolteacher — told Pruitt, "This is my son. He loves animals. He loves clean air. He loves clean water. Meanwhile, you're slashing strong fuel standards for cars and trucks for the benefit of big corporations."
Mink, like the badass she truly is, rattled off a few more of her concerns, including Pruitt's $50-per-night condo rental which is connected to a prominent energy lobbyist, the fact that he's responsible for cutting regulations and approval of fossil fuel projects, and continues to undo many of Obama's regulations related to water and air quality and climate change.
"We deserve somebody at the EPA who actually does protect our environment," Mink continued. "I would urge you to resign before your scandals push you out."
In March of this year the administration said publicly they would be "rewriting Obama-era rules governing pollution from oil and gas operations and coal ash dumps," the AP reported, which will have significant impacts on our environment and the overall health and well-being of its inhabitants.
This most recent run-in comes at a time when many in Trump's administration are being confronted in public. Sarah Sanders was recently asked to leave a Virginia restaurant after the owner explained to the press secretary that "the restaurant has certain standards that I feel it has to uphold, such as honesty, and compassion, and cooperation." Kirstjen Nielsen, the secretary of homeland security, was heckled by protesters while dining out as well.
"Administrator Pruitt always welcomes input from Americans, whether they agree or disagree with the decisions being made at EPA. This is evident by him listening to her comments and going on to thank her, which is not shown in the video," EPA spokesman Lincoln Ferguson says in a statement. "His leaving had nothing to do with the confrontation, he had simply finished his meal and needed to get back to EPA for a briefing."
"He's corrupt, he's a liar, he's a climate change denier," Mink writes. "And as a public servant, he should not be able to go out in public without hearing from the citizens he's hurting."