Mom Mortifies Teenage Son With Awesome Jumbotron Dance
by Julie Scagell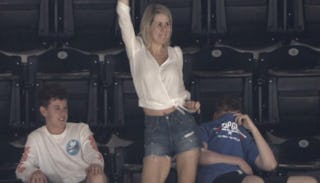 Image via YouTube
The incident was captured on the Jumbotron for the entire stadium to see
It's every parent's right, neh duty, to embarrass their kids. If we can't take some enjoyment from their pain why even have kids in the first place, am I right? Plus, everything we do tends to embarrass our kids anyway, so why not have some fun with it. Which is exactly what this mom did at a Padres baseball game.
The Padres played at San Diego's Petco Park on Monday night and at one point in the game, Flo Rida's 2008 hit "Low" came on over the loudspeaker. Obviously, it's damn near impossible not to get right up out of your chair and dance when this song comes on and that's exactly what his presumed mom did.
Of course, her sweet dance moves earned her a showing on the Jumbotron which prompted the kid next to her to immediately swallow himself whole in his Top Gun T-shirt, obviously completely mortified. The teen looked to be hoping the whole incident would pass quickly but unfortunately for him, the party was just getting started.
That's when a man, possibly the boy's dad, decided he couldn't let the moment pass without further embarrassing the kid, so he, too, joined in on the fun. One of the fans, Rudy Rendon, captured the entire thing on video and we thank him immensely for it.
Sure, his moves are a little more "Dad" than "Low" but hey, he gets an A for effort. Rendon continued to roll the video showing this poor teen turn from crimson to full fledged third degree burn all the while the adults continued their jam.
Obviously, the good people of Twitter couldn't get enough: https://twitter.com/jetpack/status/1024169834219630592
https://twitter.com/jetpack/status/1025391341222748161 https://twitter.com/jetpack/status/1024334184154841089
My son was in the middle of his baseball game last summer (like, he was standing on first base waiting to steal) and I noticed from the stands that he was chewing gum. So, naturally I stood up and screamed "Take that gum out of your mouth right this minute before you choke." He and the entire team, mouths agape, looked back at me in unison, all petrified it was their mom yelling like a maniac. Was I embarrassed? Absolutely not. My son on the other hand…
I'm sure all kids watching the video will feel this teen's pain on a deep level, while all parents high-five the air in collective appreciation for the lengths these adults went to to humiliate this boy.
Well done, folks.