Mom Tries To Help Daughter Find Period Supplies, Epic Text Exchange Ensues
by Maria Guido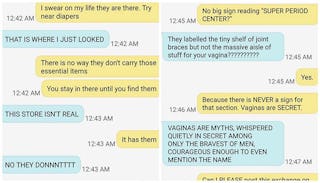 Image via Facebook/ Belinda Hankins
A mom tries to help her 13-year-old daughter find period supplies, and the two unlock some mysteries of the modern world and smash the patriarchy in the process
When you're 13, finding period supplies in the maze of a drugstore is not easy. You have not spent decades mastering unlocking the mystery of where feminine hygiene products will be nestled. Sometimes they're by the diapers (I know, weird!). Sometimes they're by the soap. You never really know where a store is going to hide their "feminine hygiene products." If only they just labeled the aisle TAMPONS, or STUFF FOR YOUR VAGINA. We'd all be set.
Belinda Hankins of the blog Ninja Poodles posted an epic text exchange over the weekend, that detailed helping her 13-year-old daughter navigate the store and find some pads. It's going wildly viral, for so many reasons.
"THIS was the highlight of my parenting week. Sending my 13-year-old daughter into the store for (whispers) 'feminine hygiene products,' and having the following text exchange," Hankins writes. "I died, she gave me life, I died again. And she drew an illustration, on the spot, ON HER PHONE, to drive her point home."
This is so good, on so many levels. Let's break it into parts, shall we?
Part I: Disbelief
"THEY'RE NOT HERRREEEEE" We feel you. We really do. No idea why the pads are always hidden. They are the "product that shall not be named."
Part II: Despair
"I SEE NONE," daughter laments. "I swear on my life they are there," says mom. "Try near diapers." Try near diapers. Dying. Why do they put tampons near diapers? It's so weird.
Part III: Hope
"OH WAIT. They're here tucked away in the a corner, unlabelled." Bingo! "They labelled a tiny shelf of joint braces but not the massive aisle of stuff for your vagina??????" She's learning the secrets of the world at such a young age. Vaginas are never to be mentioned. Never. Unless we're telling women what to do with them, of course — but that's a topic for another article.
"VAGINAS ARE MYTHS, WHISPERED QUIETLY IN SECRET AMONG ONLY THE BRAVEST OF MEN, COURAGEOUS ENOUGH TO EVEN MENTION THE NAME." This is the quote of a 13-year-old. And she is our new hero.
Part IV: Clarity
"BUT SERIOUSLY, WHY ARE MEN SO AFRAID OF WOMEN AND THEIR VAGINAS," the very smart 13-year-old asks. "DO THEY THINK IF THEY ACKNOWLEDGE THEIR EXISTENCE WE WILL SHOOT OUR LASER ESTROGEN BEAMS OUT OF OUR EYES AT THEM AND DISINTEGRATE THEM WITH EASE?" If only.
Part V: Female level, pro, unlocked
We hereby request all stores change the name of the "feminine hygiene product" aisle to "THE VAGINA ZONE."
Can someone make this happen?
This article was originally published on