Scary Mommy Exclusive: Mom Detained At The Border Is Finally Released, Will Soon Be Reunited With Her Son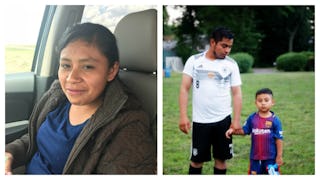 Emma (name changed), a Guatemalan mother seeking asylum, who had been separated from her young son, was recently released from a detention center in Texas on Friday, July 6 and will soon be reunited with her family. Scary Mommy was there for her release and she spoke exclusively to Scary Mommy immediately after she was released.
We've all seen the news and seen the heartbreaking images. Children alone, separated from their parents. Families torn apart and detained as they seek asylum (a legal process, by the way). We've heard their tears and listened to their pleas.
But let us remember: These aren't stories, they are human beings. They are actual children and actual families — like Emma and her young son, David (name also changed).
"I'm very happy to be reunified with my husband and son soon," said Emma. "It's been a very hard time."
Like many other parents and children, Emma and her family were the victims of the Trump administration's "zero tolerance" policy. Even though President Trump signed an Executive Order on June 20th to end the family separation aspect of the policy – and a week later a federal judge ordered that separated families be reunited within 30 days – it remains to be seen how many families are actually being reunited at this time. In fact, just today Trump requested an extension of the time limit on reunification — which means families will have to wait even longer to be reunited.
Emma first came to the U.S. almost two months ago because she feared for her and her son's life. Emma is from Guatemala, and is of Indigenous descent (she doesn't speak Spanish, the predominant language in Guatemala).
"She was targeted; she was a victim of ethnic violence," explained Kate Lincoln-Goldfinch, the Texas lawyer representing Emma. "Because of her ethnicity and the fact that she speaks a language that is different from the predominant language of her country, when she reported the crimes and the violence against her, the police wouldn't help her because she wasn't speaking Spanish."
Typically, after passing the "credible fear interview," says Lincoln-Goldfinch, parents are released from detention on bail, so that they can be reunited with their children, and begin to pick up the pieces of their lives, get jobs, find a home, etc., while they await further legal decisions on their asylum cases. But as is happening for many other immigrants seeking asylum, Emma's bail was initially denied which means that parents, like Emma, are forced to stay in detention centers longer, separated from their children and families.
"I'm thrilled to be picking Emma up from detention and putting her on a plane to reunite with her son, David, today," said Kate Lincoln-Goldfinch, a Texas immigration lawyer representing Emma. "The public outcry against her bond denial was critical in securing her release."
You can read more about Emma's harrowing journey to the U.S. here.
This article was originally published on