This Mom Slithering Out Of Her Son's Nursery Is All Of Us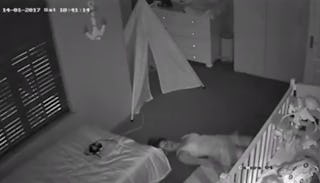 Image via Facebook
This video went viral because it's way too real
A viral video captures something every parent has done — the covert escape from the nursery to avoid waking a finally-sleeping baby. We've all been there.
And that's why it's so hysterically funny.
Tyrone and Caryn Morris, of Durban, South Africa, had friends over for dinner recently and while everyone was relaxing, Caryn was trying to put their 15-month-old son to bed. Unfortunately, little Brody wasn't having it, as Caryn tells Times Live. "We had guests at home for dinner and because he sensed people around he was moaning and wanted to get out the cot. Every time I walked out the room he would stand up and moan."
So, Caryn did what any desperate mom would do — she went full Navy SEAL to make her escape.
Tyrone writes, "The best thing about having cameras in your house is watching your wife trying to exit the room after putting your son down!! Sometimes you have to use your initiative for your exit!! PS The SA Army are calling me for you to do training on the reverse leopard crawl!"
Caryn describes the scene saying, "I decided to sit on the floor next to the cot so he could see me. He then just lay there with his eyes a little bit open. I lay back and noticed he didn't flinch or move or try and get out the cot. I slithered a little bit and he still remained on his side. Before I knew' I made it out the door and he hadn't moved. I was too nervous to go back in the room to see if his eyes were open."
Um, yeah. Once you've made your prison break, you don't look back to see if the guards noticed. You run. It's a universal parenting truth I learned with my youngest child, who required a series of butt pats with gradually decreasing pressure before he would finally release me from his tiny clutches. Once I made my exit, that was it. The night was mine. It's the most stressful and also, gratifying parenting moment ever.
Tyrone showed the amazing video to their friends and decided to share it on Facebook, where it quickly went viral. And that's because this scene is as relatable as it gets for parents.
While Tyrone is actually a professional gymnast, Caryn says the couple's friends joked that she might have some serious skills too judging by her sly exit from Brody's room. But anyone who has kids knows this is simply a non-optional adaptation. Much like animals who evolve and change to evade capture by predators, parents evolve and change too, managing to army crawl out of a room like a 007 operative in order to avoid detection.
Because there's no mission more critical than getting those precious hours of evening time. And as this video proves, parents will do anything to make it happen.
This article was originally published on