Mom Celebrates First Day Of School By Hitting Disney World — Without Her Kids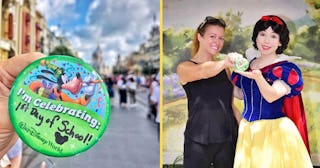 Courtesy of The Castle Run
She proudly documented her kid-free Disney adventure, wearing a pin and all!
After months of trying to figure out what to do with your kids 24/7, it is finally back-to-school season. As the summer winds down and photos of smiling, sweet-looking children in perfectly tucked in shirts and clean pants are filling up social media, so many parents across the country are celebrating their rediscovered freedom. For some that involves throwing back a Bloody Mary or two on the day of. For others, maybe a trip to the spa. But one mom had a completely unique and somewhat ironic idea of how to ring in the new school year — hitting Walt Disney World without her children.
Mother-of-two Lisa DiNoto spent her first kid-free day enjoying the Magic Kingdom in all of its glory, documenting her afternoon on her blog, The Castle Run, in a post titled "Disney Mom 101: First Day of School Edition."
https://www.instagram.com/p/B1EH3oegnaI/
"This, my friends. This is what you do after you drop your kids off on the first day of school," she wrote on her Disney-inspired blog. "You get yourself a pin and you walk it around Magic Kingdom like some garden gnome on a world adventure."
First She hit Main Street, U.S.A, proudly wearing one of those Disney pins with the world "I'm celebrating [fill in the blank]." There she inserted "1st day of school."
"People are going to start stopping you and telling you that you are life goals," she continued. "They will often be saddled with strollers and lots of tired children. Be gracious. Comfort them. Wish them a magical day…. and try not to skip away."
DiNoto wants all moms to take those needed breaks. She tells Scary Mommy, "I believe with all my heart that moms are allowed to (and should) have mental health days. Or afternoons. Or minutes if that's all that they can squeeze in – and we've all been there!! I would throw myself in front of a bus for my boys – but my love for them in no way contradicts the fact that I'm proud of how independent and happy and kind that they are and that I know that I function better as a mother when I take care of my own wellbeing, too. We live close to Disney. They go ALL of the time. But that morning, while they were happy and excited to be back at school with their friends and new teachers, I took a few hours to myself and enjoyed the moment."
Her journey took her to the Confectionary, then to see Snow White and finally the Fairy Godmother. While Snow refused to mock her children, to her delight, the Fairy Godmother had no qualms. "My god I love her. She was cry laughing with me and threw her arms around me while I cried, "THIS IS WHY I MOVED HERRRRRRRRRE!!!!!!!!!!"
Insert backstory: DiNoto's Disney devotion is serious. In fact, almost exactly two years ago the Harvard Law graduate packed up her law office, sold her home and moved down to Orlando with her husband and kids— just so she could hit the park whenever she wants. They currently live about a mile away from the entrance gates. Her blog is devoted to the transformation of her life and is perfectly summed up by its tagline, "…find your happiness and go there…"
Of course, not everyone at the Magic Kingdom was supportive of her kid-free celebration. "And if they tell you you're mean, just assure them that you live 10 minutes away and your kids get over there plenty often," she added. "And then go home. Because it's really too damned hot in central Florida to be in the Magic Kingdom. And that's a wrap!!"
Do take note that DiNoto's not lying about her children being regulars at Disney. Her Instagram feed is literally filled with family photos taken at every park, hotel and monument at the Florida amusement park. She tells us her kids have lots of Disney time. "They go as often as they want since we're so close so they got a huge kick out of seeing the pics I'd taken while they were in their first day of school. We had so much fun trading stories about our day after school pick up."
However you choose to celebrate back-to-school day, enjoy! And if you do plan on hitting Disney without kids, you might want to check out their booze-filled Halloween celebration this fall.
This article was originally published on