Why Your Mom Friends Might Be The Most Important Friends You'll Ever Have
by Ashley Kahn Salley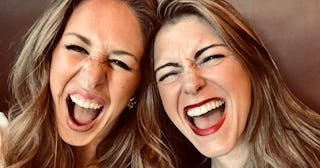 Courtesy of Ashley Kahn Salley
You'll never forget the friends you make in kindergarten. Middle school? You need those girls, and you need them hard. In high school, you discover it's fun to hang out with people who share your interests and hopes and dreams.
By college, you start to become who you're meant to be, and you realize what real friends really look like. As a young professional, your best mates are often your office mates.
But girl, when you become a mother…
My mother was diagnosed with cancer shortly after my first child was born. So I spent my days with my brand new best friend and my original best friend, nursing her back to health while coming up with silly ways to make both of them laugh. I was a single mom – I felt cast aside, I didn't fit anywhere. But it didn't matter much because I knew where I needed to be.
After I got married and that baby turned four and his grandmother turned a corner and a little sister was born, we moved to a new neighborhood where he would start kindergarten and make his own first friends.
It never occurred to me, in crossing that bridge, that the parents of his friends would become my friends. Suddenly, as we enrolled in summer camps and after-school activities, our friend group grew.
I started something called Happy Hour Play Dates. (You're welcome.) This was basically because I don't like to be out past 9 p.m. and I really like being home. It's also a lot easier to stay in with 17 kids.
For a season, we hosted five families on a rotating basis – to share laughs and food and mommy drinks while the kids, ranging in age from fresh-out-the-womb to five, ran around us in a sugar-induced, sticky-fingered blur.
As time went by, we made more friends in rom-com, meet-cute ways – like the morning on the street corner at the Santa parade – and the Happy Hour Play Dates got bigger.
I love the way new people come into our lives in the weirdest ways, like when a lovely human whose husband I didn't kiss in high school showed up in my inbox like an early Christmas present, then told me she was going away for year. (Not to prison, but to travel the world. We're gonna be pen pals.)
We've all had more babies, and lost some. We've gotten new jobs. We've gone back to school. We've moved into new houses. We're doing life together.
These are the friends who bring lasagna when you're pregnant and your husband has to hold you upside down in a headstand at four in the morning because you can't pee and you come home from the E.R. with a catheter just in time for your older son's birthday weekend. They're the friends who secretly drop things in your mailbox or at your front door, whether it's wine or diapers or a personalized ornament with everybody's name on it every Christmas. The ones who host New Year's at the last minute because you just had a miscarriage and they know it's your favorite holiday.
These are the friends who come over if you tell them something's wrong, and know that you need them even when you don't. The ones who take your kid to jiujitsu because your husband's away and you can't do it all by yourself. The ones who cry with you on the carpet when you feel like the world is falling apart, and pull you up off the floor with pizza and good advice. The friends who sit with you on the roof like schoolgirls – one foot out the window, but all the way in your life – and tell you their secrets as the sun goes down.
These friends are stars, twinkling in the night sky and shining like the golden sun even when they're as exhausted as you are. You can tell them anything, because they're walking this journey right beside you, and they've been there, too.
So hold on to your mom friends, because, as far as I can tell, we're gonna be moms long after our kids stop climbing into our beds all hours of the night and can finally use the toilet on their own.
And it's nice to feel needed … but it's even nicer to be there for a friend who needs you.
This article was originally published on