After Cancer Diagnosis, Mom Decides Life Is Too Short And Chases Dreams Of Being An Author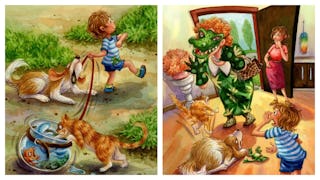 Jade Fang, Illustrator / Don't Bite the Babysitter
Angie Thomas was diagnosed with breast cancer for the first time in 2011. Tests and scans showed two tumors in her left breast and as well as cancer in her lymph nodes. The news was hard for Thomas and her family to process: stage 2B breast cancer. After undergoing a double mastectomy, radiation, and chemotherapy, Thomas assumed that the worst was behind her. At 51, she was enjoying spending time with her two grown daughters and eagerly looking forward to a life with grandchildren and retirement.
But cancer had other plans.
When a lesion on her scalp failed to heal on its own after several months, Thomas trusted her gut and persisted in pushing her physicians to take the lesion seriously. After multiple visits to 11 different doctors, a dermatologist finally biopsied the lesion. The new diagnosis was devastating: stage 4 breast cancer. Further tests showed that her breast cancer was now in her sternum, hip, clavicle, several vertebrae, and under her arm.
Thomas knew she had some decisions to make, and her family wasn't the least bit surprised when she told them of her plan.
Thomas told them that she was going to quit her job as a busy stockbroker and focus on a career she'd always wanted to pursue: writing children's books.
Her family was elated to hear that she was going to finally slow down and chase her dreams, cancer be damned.
"Life suddenly became too short, and I wanted a career that derived joy," she tells Scary Mommy.
While in her early 20s, Thomas recalled worked in an elementary school setting and again when her two girls were in school. She says she always found ways to interact with the children in the classroom setting. Often, Thomas read books to her daughters' classes. She loved how she felt when she worked with kids and enjoyed the simplicity that children bring with their humor and honesty.
"I decided to focus on things closer to my heart once my cancer came back," she says.
And so her writing career began.
Armed with a story based on her nephew's experience with a babysitter, Thomas set out to tell a humorous tale about a little boy who tries to thwart his mother's plans to leave him with a babysitter. Through a series of hilarious ill-thought-out plans, the little boy decides that the best way to get the babysitter to leave is to, well, bite her.
And hilarity ensues from there.
Thomas said her book, Don't Bite the Babysitter, will resonate with parents because, at one time or another, we've all spoken phrases to our kids that we never thought we'd have to say. "My nephew bit his babysitter years ago and that story always stuck with me because it was something I never thought I'd have to say out loud to a kid." Same, Angie, same.
In early versions of Don't Bite the Babysitter, Thomas did the illustrations in addition to the text. However, when she read a test version to a fourth-grade class, she quickly realized that her illustrations weren't up to par when three fourth-grade girls offered to help her with the pictures. "That's when we brought Jade Fang on as the illustrator for the project. Her illustrations are amazing, and they really brought my story to life," she says — though she admits to feeling a tiny bit bad that she wasn't able to employ the budding fourth-grade illustrators.
Thomas's book has to clear one more hurdle before she can bring her funny story to kids everywhere: funding. She and her daughters started a Kickstarter campaign in hopes of raising the funds to pay the costs associated with releasing a self-published book.
Thomas is hopeful that people will hear her story and think of their own dreams that have been shelved in favor of raising a family or pursuing a career. "I'm hoping people will support my dream as well as chase their own before it's too late," she says.
At the end of our interview, Thomas recounted a story from earlier in the day. While on a walk along the beach, she found a shell, and just then, a small child walked by with his mother. Thomas offered him her newest seashell find and his face lit up with a smile. "It didn't cost me a dime to make a child smile and that's the feeling I want people to walk away with from my story," she says.
It's Thomas's hope that women will be inspired to chase their dreams because life really is too short. And what's more, she wants women to know that they should trust their guts not only when it comes to their dreams but also their health.
"You are the only person who really knows you. If you don't feel happy, listen to yourself. If your body doesn't feel right, trust your instincts." Thomas is excited about her new career as a children's writer and says she has 15 other stories in the works as well as a series based on a regular character. Her stock-brokering days are over and she couldn't be happier. Her future looks bright, thanks to allowing herself to chase her dreams, no matter what her cancer treatments have in store.
Slow clap, Angie, for making us all realize that dreams really can come true.
If you'd like to support Angie, please visit her Kickstarter here. For $15, you will get a softcover book, and for $20, you will receive a hardcover copy of Don't Bite the Babysitter.