Mom Gives Birth In Car In Front Of Hospital And Is Charged Full Delivery Fee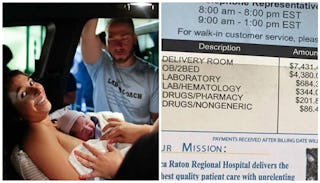 Image via Paula Schpletcta.com
Mom's car birth goes viral, but takes a stressful turn
When Paula D'Amore was preparing for her third birth, she'd already been through one successful VBAC, so she had her team in place and ready for the big day. But, proving that no amount of preparation can truly predict when your baby decides to arrive, she ended up delivering in the family Jeep in the parking lot outside Boca Raton Regional Hospital.
Her birth photographer Paulina Splechta was there, initially expecting to document the birth in the hospital. When it happened in the car in front of the hospital, she was on hand to document the incredible experience. The photos quickly went viral because they're amazing.
Paula's baby was healthy, but the incredible story took a stressful turn when they were admitted to the hospital. "After being admitted the baby was taken to the nursery to be checked. The neonatologist ordered a blood culture on the baby," Paula explained to Scary Mommy. She alleges the nurse never cleaned the baby before the blood draw, "leading to a positive result causing her to be admitted to the NICU for 24hrs and receive five rounds of antibiotics."
After two repeated tests before treatment was started came back negative, Paula says they asked to be discharged, realizing the first test must have been contaminated. "Bacteria that grew was staphylococcus hominis: a bacteria that is commonly found on human skin in the pubic region," she said. The baby was admitted to NICU, and the hospital is charging the couple a $4,000 NICU charge — a stay that the couple alleges was a result of the hospital's own mistake.
On top of that charge, the couple was also billed $7,431.45 — for a delivery room charge.
They delivered the baby in the Jeep. In front of the hospital. Outside.
"I give total credit to the nurse who suctioned Daniella when Joe delivered the head, the midwife who finished delivering Daniella," D'Amore said in a Facebook Live video she posted to talk about what happened. "But to charge a roundabout charge for seven grand, I think is ridiculous. I wasn't admitted until after I delivered the placenta."
A statement from the hospital to Paula read, "The services rendered were the result of a complex delivery due to a precipitous labor and delivery," the hospital's statement read. "Our Labor and Delivery Unit provided additional resources by sending three nurses and a nurse midwife to the hospital parking lot to assist the delivery of the baby."
Here's her discharge summary, which states "Delivery in car prior to arrival at hospital."
Paula notes that the nurses merely held up sheets in the parking lot. "It was a spectacle. Everyone was there."
"It was a beautiful 24 hours and after that it was living in hell for the next 24 hours with having to admit her to the NICU and not know if there was truly something wrong with her," she tells Scary Mommy. "I should have just stayed home and delivered her there."
[free_ebook]
This article was originally published on