My Kids Get A To-Do List Every Weekday During Summer — And That Includes Schoolwork
by Rachel Garlinghouse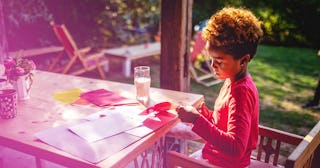 Scary Mommy and FluxFactory/Getty
My visions of summer with my four kids have hardly ever come to fruition. I mean sure, we could try to throw all caution to the wind, driving our car from parks to pools and grabbing fast food, but the reality is, my kids—and me–thrive on boundaries and routine. Fun can happen, of course, but all play and no work just leaves me with four moody kids and a disaster of a house. No, thanks.
Every summer, my kids get a to-do list for the day. It includes chores, tutoring and therapies, music practice, and yes, some educational work. I am that mom who isn't afraid to give my kids some academic practice over the summer.
Now before you jump into the comments, let me tell you why we do summer schoolwork. It's not to help them catch up or avoid falling behind. Certainly, the past year and a half, while the pandemic has raged, has caused difficulty for all students. The last thing kids need is more pressure to "keep up" in this dumpster fire. I'm not trying to get my kids to rock any standardized testing or graduate high school early. In fact, I think academic pressure on students (and teachers) is so over-the-top that we are on the verge of teaching kids to loathe learning, not enjoy and embrace it. Oh, and I need to mention, I'm a former teacher.
So why in the world do I give my kids learning tasks over the summer? Don't kids need a break from working their brains? Can't summer just be one long party? I mean yes, I guess it could be. However, forgoing academics for three months isn't the best move, in my humble opinion.
For starters, the assigned work gives them something productive to do for a bit instead of asking me for another snack, whining how bored they are, or bickering with their siblings. Well, for a few minutes a day at least. I can't entertain them all summer long, and I'm guessing you can't do that for your kids either. Most of us have jobs and all of us have additional responsibilities beyond our kids. I don't want to be the master of ceremonies during all our waking summer hours. It's exhausting.
My kids are doing daily academic work in subjects they struggle in. I give them this work to help them build confidence and practice skills. Going three solid months without practice makes for a really, really hard fall, one that involves a lot of tears, frustration, and humiliation. Though my kids don't totally get or appreciate it now, doing this daily work is for their own good. Avoiding a little daily work comes back to bite us all in the butts once the new school year starts.
I give my children about thirty minutes of school tasks, Monday through Friday, for the summer. Yes, you read that correctly. They work on academics about thirty minutes a day. One of my children focuses solely on math, while another is focusing on reading comprehension. We utilize different tools for each kiddo based on their needs. For one, math facts are best learned with flash cards. We use occupational therapist created handwriting workbooks, and two kids use school-issued websites for math practice. Whatever works is what we do.
I want every parent who is facing the to-issue-school-work-or-not question this summer to give yourself permission to assign your kids some work if you feel it will benefit them. This can be done in many ways. Sign them up for an online class or a specialty camp. Play an educational game, find an app or website for practice, or buy flashcards and workbooks. If you can, hire a tutor. There's no one or right way.
In our case, the older siblings help the younger siblings. One of my tweens is assigned to read to her preschool age sister twice a week. The other tween coaches her third-grade brother on reading comprehension. My husband and I also take turns working with the kids in between work assignments and calls.
You might wonder what you do if your kid flat-out refuses to do the work or half-does it. Well for us, that's easy. My kids have a daily to-do list, and then if they complete it, they get their tech for an hour while we make dinner. If the work isn't done, no tech. Our rule is straightforward, and it teaches our kids the importance of being responsible for their own choices. We make sure to check over their work. We aren't looking for perfection, but rather, did they understand what they were supposed to do and did they actually do it? Another perk is that we're aware of how our kids are doing academically. What gaps do we need to be aware of?
The other or additional option is to give your kids the gift of more time to read. Load up on free materials at the library, hit up your local used bookstore, or swap books with friends. Let your child choose the topic and format. My kids, for example, love all the graphic novel books. The sillier, the better. I'm happy they love reading, because not only does it entertain them, but it also builds their vocabulary, grammar skills, and imaginations.
Giving our kids daily academic work in the summer, despite their occasional moaning and groaning, works for our family. The amount of work our kids do is reasonable and for the most part, they can handle the job by themselves, asking questions when they need help. Once back-to-school rolls around, the summer work pays off, creating a win-win-win for the parents, the kid, and their next teacher. Plus, you'll have a few minutes to get some work done, go to that bathroom alone, or brew a fresh cup of coffee.
This article was originally published on