Mom Posts Sobering Plea To Other Parents: 'Keep Sick Kids Home'
by Megan Zander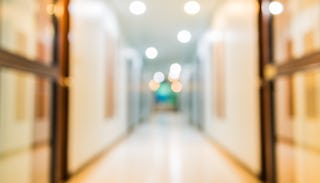 Image via Shutterstock
Mom's post reminds us what's at stake when we take sick kids out in public
Playing with her sick cousin over the holiday is how one three-year-old little girl ended up in the hospital with a serious respiratory infection. Her mom shared the details of what happened on Imgur, in hopes of encouraging other parents to keep their sick kids home instead of risking the spread of an illness.
"Please. If your child has a cold, or a flu, or an upper respiratory infection, please keep them home and take care of them," wrote Imgur user Laura Correada-Silva. The mom shared this heart wrenching image of her three-year-old daughter Chloe in a ICU bed, being treated for respiratory syncytial virus infection, more commonly known as RSV. According to Correada-Silver, her daughter contracted the virus over the Christmas holiday, when her cousin who had a lung infection came over for dinner. "My brother presented her like, 'Oh she has a lung infection but she shouldn't be contagious,'" she said. Famous last words.
While her mom pointed out that Chloe is up to date on all her vaccinations, the little girl suffers from asthma. Although some kids can handle RSV like it's just a bad cold, it can be brutal for babies and children with pre-existing lung conditions. Shortly after the Christmas visit with her sick cousin, Chloe developed a fever. A visit to the doctor scored her some antibiotics, but she wasn't out of the woods yet. When the little girl's breathing worsened her mom took her to the emergency room, which is how Chloe ended up in the ICU on a high flow breathing machine.
Fortunately Chloe is in good spirits and is on the mend. Hopefully she will be released from the hospital soon. But the point her mother makes is a solid one. Yes, no one likes to be stuck inside the house for days on end during winter. And when you have something fun planned, like a holiday dinner with family or a birthday party, it's even harder to miss out on the fun (and wine) and stay home with a sick kid. It can be tempting to see your child dancing around the living room and think, 'Well, they seem fine." But unless you know for certain that a child's not contagious, taking them out into public to be around other people can be downright dangerous.
It's tough when a parent needs to miss work, and anyone who has been in the position of having a sick child and begging for more days off knows this. But this was a completely social call. And those can be sacrificed — even big holidays like Christmas.
So if you or one of your kids is sick, please stay home. Yes it's boring, but this way you won't be the reason someone else's child ends up in the ER.
This article was originally published on