Listen To This Mom Who Lost Her Child In A Hot Car And Dare Call Her A Terrible Parent
by Valerie Williams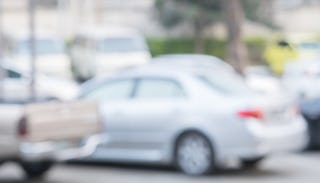 Image via Shutterstock
Mom who lost a child from heatstroke in a hot car reminds us it could happen to anyone
Already, the number of children dying of heatstroke after being left in a car is two more than in 2015 for a total of 26, and the hotter weeks of the year aren't even over yet. With hot car deaths on the rise, one mom is sharing her tragic story in the hopes of preventing it from happening to anyone else.
According to KHOU News, a family who suffered the loss of their baby in a hot car are doing their best to comfort others experiencing this unimaginable grief. They won't share their names (probably because the internet is a horrible place) but they did want to spread the word about how easily this can happen to anyone.
"Normally, I take the older two kids to school, and today, he was trying to bless me and took all three of them," the mom explains of the change in routine that fateful morning. But when her husband showed up after work to get their 5-month-old daughter from daycare, the teachers said she hadn't been there.
And that's when their living nightmare began.
The mom explains that when she got the horrible news, "There were 15 seconds of, 'How could he do that?'" She says it was her faith in God that helped her quickly move past blame and anger as she drove home. "Immediately, instant forgiveness washed over me."
Now, she's giving that same reassurance and gentle words to other families going through what she went through. She sends letters to parents who have lost a child to heatstroke after being left in a car saying, "If I can help one family, one child. It's important for people to know that it happens to good people."
It's easy to judge from the comfortable spot of never having experienced it, but I've seen for myself how it could happen, despite the best intentions. My husband and I are as vigilant as any "good" parents. The safety of our children is always top of our minds, but any alteration to our carefully-calibrated routine has the potential for disaster.
When I worked outside the home and we were juggling the daily drop-offs, we would occasionally change course and one of us would take both kids to daycare or just one kid or neither kid. It was those mornings when operating on auto-pilot that I realized how easy it would've been to forget a baby in the backseat. Luckily, our kids were past the age of being in a rear-facing seat during the years I worked and spent most of our commutes chatting away (or crying or asking for snacks) so we couldn't really forget them. Had we been dealing with sleeping infants in rear-facing seats? I know in my heart how simple it would've been for a tiny change in schedule to result in tragedy.
And if other parents in that same boat aren't nodding along in agreement, I ask you to dig deep and forget the sanctimony. Forget the myth of the "perfect" parent. It could absolutely happen. To any of us.
The fact that this family wants to remain anonymous is very telling in regard to how society treats parents this has happened to. We are so quick to judge. So quick to say "how could you?" and smugly sit back as though there's no chance such a terrible thing could befall us. Instead of judging, how about we have a little compassion instead? None of us are beyond reproach. We would do well to keep that in mind.
This article was originally published on