Colorado Mom Places Injured Bobcat In Backseat Of Her Car Next To Child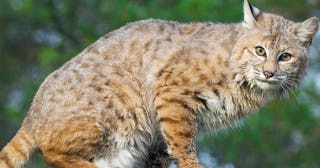 Getty Images
Today's PSA: Wild animals do not belong in the backseat of your car next to your child
Never, ever pick up an injured predatory animal and place it in your car, people — especially next to your child! While this might seem like obvious to many of us, who scream at the sight of your garden variety worm, not everyone is too afraid to scoop up a fanged animal and take them for a car ride with the fam. On Wednesday, a good samaritan Colorado mother attempted to save a wild bobcat by placing him in her car next to a child, which has prompted the local parks and wildlife department to issue a warning to others.
According to the Associated Press, a woman was driving when she spotted the injured adult male cat at the side of the road. With the best intentions humanly possible, she wrapped the wild animal up in a blanket and placed it in the back of her SUV — just inches away from her 3-year-old son who was secured in a carseat. As the animal was seriously injured and barely moving, she likely didn't think what she was doing was remotely dangerous. To her defense, bobcats are totally adorable felines, who basically look like giant kitty cats with cropped tails and squashed ears. They just happen to have really sharp claws and fangs that can rip your skin out.
With the big cat in her car, the woman called agency officials to ask them what to do next. Without skipping a beat, they told her to get her son and herself out of the vehicle immediately. Luckily, both mother and child made it out without a scratch.
District Wildlife Manager Sarah Watson responded to the call and when she arrived at the scene, she opened the door and spotted the 20-pound bobcat. Unlike the mother, who didn't see any potential danger with the large cat, she was like, UH-UH. She immediately slammed the door shut.
Apparently the cat was "hissing and resisting" despite the fact he had sustained serious injuries, including paralyzed rear legs and internal injuries. As the cat was mortally injured, it was promptly euthanized.
Colorado Parks and Wildlife issued a formal warning on social media, reminding people in all caps to "NEVER PICK UP WILD ANIMALS."
The reaction on social media was all over the place. While some people were quick to pass judgement on the mother for putting her child in danger, (because isn't mom-shaming always the first reaction to everything?) others pointed out that like all of us, she is human.
https://twitter.com/jetpack/status/1175259899523207168https://twitter.com/jetpack/status/1175223348860637184
But yeah, while teaching our children to be compassionate to animals is crucial, the moral of the story is: don't pick up large, injured wild animals at the side of the road and put them in the backseat of your car with anyone — especially not your young children! Even domesticated animals like dogs and cats can react unexpectedly when they are injured, so if you are going to attempt a good samaritan act, maybe drop your kids off at the grandparents house first. Or, just call animal control.