Mom Mortifies Son With Amazing Jumbotron Performance
by Julie Scagell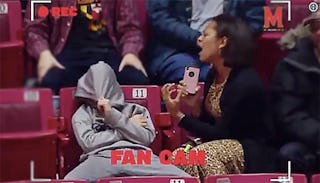 Image via Twitter/Maryland Basketball
If you aren't embarrassing your kids, are you even a parent?
It's some kids' dreams to make it on the Jumbotron during a sporting event. That is, unless you're this kid, who got attention not for his dancing — but for his mom's sweet, sweet moves.
The Fan Cam was doing its job during a timeout of the Maryland Terrapins and Loyola Greyhounds basketball game, searching the crowd for a person in just the right mood. And that person was mom Mandy Remmell.
It's as if she's been waiting for this moment all her life — and when Kelly Clarkson's "Since U Been Gone" started playing, she was ready (much to the chagrin of her son).
Remmell, who was dressed in leopard print head-to-toe perfection, started belting out the lyrics to Clarkson's hit song, using her phone as a microphone. But that wasn't good enough for this mom. No, she started serenading her son, Blake, who was less than thrilled with her performance.
The crowd started cheering as her son sank lower and lower into his seat, obviously praying the plastic chair would open up and swallow him whole.
And it wasn't just the fans who loved it — Clarkson herself was delighted to see this mom embarrassing her kids, tweeting, "This is my kind of mama."
Obviously the good folks of Twitter were loving this mom and fully supported her antics:
Try as he might, his hooded sweatshirt would not miraculously transport him from the arena to a far-away land. Remmell, 29, told the Washington Post that her 10-year-old son has since recovered and that, "embarrassing your kids and doing it in a fun way is a great opportunity. If you can get laughs and make memories, that's really what counts."
She's also a woman after our own hearts. When she showed her husband the video after the game he wasn't surprised at all, since she did the Worm at their wedding. "I love karaoke," Remmell said. "Anytime there's singing, dancing, all of that stuff, that's right up my alley." We bow down to you, lady friend.
There's no point in even having kids if you can't embarrass them from time to time. And that Remmell did. We predict someday Blake will look back on this (years and years from now) and appreciate his awesome mama even more for her sick dance moves and ability to laugh at herself.
Well done.
This article was originally published on