Mom Killed After Protecting Her Kids From Speeding Car On First Day Of School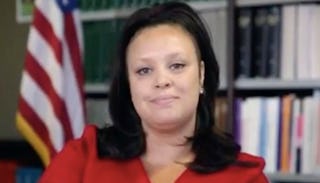 Image via YouTube/NewsWeek
Witnesses say the mom stepped in front of the kids to shield them from a speeding car
A mother of two was killed when a driver in a speeding car stepped on the gas instead of the brakes and accelerated toward her and her children and a friend after picking them up from their first day of school. She likely saved the lives of her kids by sacrificing her own.
Kharisma Ashlee James shielded three children — two of her own and another classmate — from the out-of-control car in the parking lot of Trippin Elementary School in El Paso, Texas. The driver, a 58-year-old man, reportedly became "disoriented" while picking up his grandchildren from school. He unintentionally accelerated the car instead of stopping it while leaving a parking spot, officials told the El Paso Times. He hit another car and then headed straight for James and the three children with her.
In addition to being a loving mom of three young children, James was an operating room nurse at the Hospitals of Providence. "We are deeply saddened by the loss of our colleague and friend, Kharisma James," said Nicholas Tejeda, Market CEO of The Hospitals of Providence, in a statement. "This is a tragic loss for our THOP family. Our hearts go out to her family, friends and colleagues during this difficult time."
She was also a veteran, having reached the rank of staff sergeant in the Army prior to becoming pregnant with her first child and served in Iraq. It's a tragedy no matter what way you look at it — two young children now have to live the rest of their lives without their mother, who was a mother through and through until the very end.
Witnesses say James saw the speeding car careening toward the three children and stepped forward to take the brunt of the hit. A GoFundMe has been set up to help her family with expenses. "Two Tippin elementary students suffered an unimaginable loss today with the death of their mother when her and the children were struck by a vehicle in the parking lot on the first day of school," the site says. "Let's come together as a community and support this family in this painful time and surround them with love."
The whole story is utterly heartbreaking. Kharisma James is a hero who deserves to be remembered.
This article was originally published on