This Mom's Reaction To Her Kids Shaving Their Heads Is Peak Parenting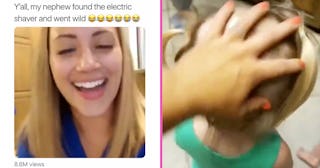 Stephanie Plucknette via Instagram
A little boy gave his siblings some very special haircuts and their mom's reaction is gold
Kids get into things — fast. I don't care how much you think you're watching over them, they are curious creatures and that curiosity can sometimes lead to adorable (and not so adorable) troublemaking. One mom found that out the hard way when she hopped in a quick shower to get ready for work and her kids found the dog grooming clippers. You can imagine how that went down — and her reaction to the whole thing is just lovely.
Over the weekend, Stephanie Plucknette, a full-time nurse and mother of three kids, five-year-old Teddy, three-year-old Eloise, and two-year-old Fred, told BuzzFeed she left the kids in the backyard for a couple of minutes so she could take a quick shower before work. That was apparently the perfect amount of time for her oldest to find an electric clipper and give the trio haircuts.
Related: 18 Cute And Easy Kids Hairstyles That Will Make You Feel Like A SuperParent
She shared the aftermath with family and friends and her younger brother, Ian, decided to share the hilariousness on Twitter so the world could witness said haircuts real-time.
The video shows Plucknette's kids in various stages of hair loss showing their mom their new 'dos. She said, "I'm crying…because look," panning to Teddy, who seemed to be the culprit of the entire situation. Props to him though, he didn't just shave his little sibling's hair, he did a number on his own as well.
Bless.
"Earlier in the day I had just given the dog a shave out in the backyard, and I wasn't done clipping her, but I left the clippers outside and I got side-tracked and went grocery shopping and cleaned the house and did other things," she told BuzzFeed. When she realized what had happened, she said her "first reaction was 'No no no…'"
Quickly, Plucknette regrouped and can be heard on the video cry-laughing and trying to reassure her kids, "it's just hair." "We'll make it work, OK? We'll make it work," she continued. She also hilariously tries to sweep what's left of Eloise's hair over the giant naked spot like some sort of middle-aged bald man, alas it was not to be.
Plucknette said she gave her brother permission to share the video on social media but was shocked and a little sick when it went viral so quickly. "These are my kids and you can't take this stuff back," she said. "I am private. This is fun, but I also want to be protective over my children."
Lucky for Plucknette, people were quick to jump in and tell her what a great mom she is and to laugh right along with her:
https://twitter.com/jetpack/status/1117241940918059008https://twitter.com/jetpack/status/1117255658556907520
https://twitter.com/jetpack/status/1117300642748555265
Hagadorn shared an updated video as well and judging by all the dancing, the boys seem to be loving their new haircuts. No word on Eloise, who can be heard in the original video asking her mom, "Mommy, can you put more hair on my head?" Oh sweet, sweet Eloise. No, mommy cannot.
"My daughter goes, 'I look like a boy now,' and I go, 'No, you're still beautiful. It doesn't define you. There's more to you,'" Plucknette said. Well done, mama.
This article was originally published on