Mom Films Son's 'Horrifying' TSA Pat-Down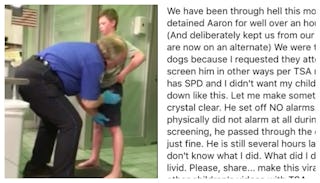 Mom videos 13-year-old's 'horrifying' TSA pat-down
A mom is outraged over a security pat-down her son received at an airport this week. Video of the incident would make any parent cringe.
"We were treated with utter disrespect as if we were criminals," Jennifer Williamson told CBS This Morning. She posted a video of the pat-down on Facebook with a lengthy description of their ordeal at the Dallas/Fort Worth International Airport. Her son Aaron is 13-years-old and has Sensory Processing Disorder. "We have been through hell this morning. They detained Aaron for well over an hour," she wrote. "We were treated like dogs because I requested they attempt to screen him in other ways per TSA rules. He has SPD and I didn't want my child given a pat down like this."
She was confused as to why the TSA needed to give this kid a pat-down considering he didn't set off any security alerts. "Let me make something else crystal clear. He set off NO alarms. He physically did not alarm at all during screening, he passed through the detector just fine," Williamson wrote. Why did he need an additional screening after the detector? And once she told them about his SPD, why were they not accommodated? "I believe he was patted down excessively. They went over his sensitive areas, a little more than necessary, especially given that he wasn't wearing bulky clothing or anything like that," Williamson told reporters.
And it's not just the disturbing video above, the family was delayed so long by TSA that they missed their flight. "I wish I had taped the entire interchange because it was horrifying," Williamson explained. "We had two DFW police officers that were called and flanking him on each side." Two police officers flanking a child? Who set off no security alerts?
"His first question to me was, 'I don't understand why they did this. I don't know what I did wrong,' and to me that was a sign of trauma for him to think that he had done anything wrong," Williamson shared. Williamson told CBS This Morning that agents told her Aaron needed a pat-down after they found his laptop. Apparently he left it in his book bag when it went through the scanner. Sounds like a common mistake a child would make – not a high-tech terrorist operation.
Since her son is sensitive to touch she asked the TSA officials for a touch-free security option, which was ignored. The TSA issued a statement to media outlets when Williamson's post went viral. It said in part: "TSA allows for a pat-down of a teenage passenger, and in this case, all approved procedures were followed to resolve an alarm of the passenger's laptop."
Spending hours interviewing and patting down a child over a laptop doesn't make anyone feel safer about going to the airport.
This article was originally published on