Mom's 'Diabetes Box' Ensures Her Daughter Is Safe In All Her Classes
by Sarah Hosseini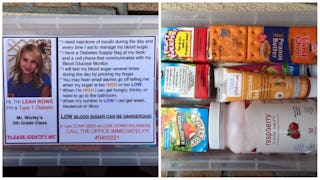 Image via Facebook/Lauren Rowe
The diabetes box is a life-saver for children
As summer comes to a close, most everyone with kids is getting in back-to-school mode. There's the usual shopping for school supplies, new clothes, and for some with special needs, there are a few more crucial preparations. We're talking life-saving measures.
That's why one mom in Florida is making sure her kid is equipped with all she needs for her condition. Lauren Rowe's daughter Leah, in 5th grade, has Type 1 diabetes. She posted her daughter's "diabetes box" on Facebook and many are praising her brilliance.
"That time of year again. Here is Leah's Diabetes Box!" she writes.
"I put one in every classroom she goes to." She adds, "It's great for substitutes."
Rowe explains that it has glucose tabs and snacks for high and low blood sugar including juice boxes and crackers.
She also has nurse's box with the glucagon pen clearly marked. For those not familiar with diabetes medical terms, glucagon is the opposite of insulin and is used to treat severe hypoglycemia (low blood sugar). It comes in prescription, injectable form for diabetes patients.
In the photos you'll notice that on the left Rowe has a clear picture of her daughter, her daughter's name, and teacher's name. On the right, she gives explicit instructions.
Her mom explains on the box that her daughter needs to test her blood sugar several times a day. That she has some alarms that go off to tell her if she's getting too high or too low.
"When I'm high, I can get hungry, thirsty, or need to go to the bathroom.
"When my number is low, I can get weak nauseas or dizzy."
In red and capital letters the mom typed out emergency instructions that are as clear as day.
"If I am CONFUSED or LOSE CONSCIOUSNESS, CALL THE OFFICE IMMEDIATELY!!!" Rowe lists the office number extension, which can dial out to 911 in case of an emergency.
These boxes are game changers because as great as many teachers are, they're not trained medical professionals. Every moment counts in an emergency situation. These boxes take the guess work out of precarious situations and get your kid the help they need faster. They could literally save your kid's life.
Parents of diabetic children have to thoroughly prepare their children and school staff for potentially dangerous situations. The American Diabetes Association recommends that parents meet with their child's medical provider prior to starting school to discuss and review management and action plans. Teachers and school nurses then need to be walked through the daily diabetes regimen and the emergency plan.
Additionally, you should provide instructions for anyone that will be taking care of your child including bus drivers, other teachers in the school, field trip staff, and after-school activity staff.
The ADA also suggests providing a "low box" (much like Rowe's) for your child's classroom and the school nurse with emergency glucagon and any snacks that can bring your child's blood sugar up quickly.
What was so great about Rowe's box is that she expanded upon the "low box" idea and provided step-by-step instructions. Having the instructions clearly laid out can assist even the most panic-stricken people to jump into proper action.
You can also see how her idea can be used for other special conditions that other kids might have: asthma, food allergies, epilepsy, and so on.