Mom Mimics Calvin Klein Ad To Make A Point About Post-Baby Bodies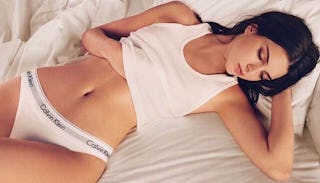 Image via Instagram
Mom poses for photos mimicking Kendall Jenner's recent Calvin Klein ad
If you've had kids, chances are, your stomach never quite returned to its pre-pregnant state. If it did, congratulations, but we're all jealous of you so kindly look away while we get real for a little bit.
It can be difficult to accept the changes your body goes through during and after pregnancy, but one mom decided to embrace her stretch marks and post-baby "belly" by having pictures taken by a professional photographer. And the results are stunning.
26-year-old mom Brenda DeRouen had her son eight years ago. According to The Daily Mail, she wasn't always confident in showing off her postpartum body. She says, "I struggled for years to accept the stretch marks on my body." On her blog, she writes, "I turned away when dressing in front of others, and wouldn't chance doing the dirty with the lights on. For years I dealt with not loving myself. I was self-conscious in relationships and I hated how my body looked."
And oh, how so many of us can relate.
That's why so many other women are cheering on DeRouen for the way she embraced her new body instead of hating it. She decided to have pictures taken that mimicked the recent Calvin Klein underwear ad featuring Kendall Jenner — jeans tugged down, Calvins exposed. Photographer Deun Ivory took the photos and they've since garnered thousands of likes and positive comments on Ivory's Instagram page.
Here is DeRouen's version.
And here is Kendall's.
DeRouen says, "I wanted to celebrate the end of my body insecurities by having a perfect stranger document my moment through photography." The recent law school grad says she "felt a sense of pride and liberation" as Ivory snapped the photos. "This moment was bigger than any photo-shoot I had ever done. This was personal. This moment was a defining moment to erase years of self-hatred and revel in self-acceptance."
Though DeRouen has no hate for Kendall's ad calling it "beautiful," she wanted to make a larger point about how society sees women after they have babies. "Our bodies were never meant to be perfect. Most pictures that you see nowadays including Kendall's are Photoshopped and edited. You will never look like the girls in the magazine and you shouldn't want to. You are beautiful. Every scar and every imperfection has a story that makes you uniquely you. Your body is your temple."
As a mom also eight years out from having my first child, DeRouen's message is inspiring. Although my stomach is mostly back to normal, it's not exactly the same and I don't always love showing it off. Of course, we have nothing to be ashamed of — women have babies and their bodies change as a result. It's a fact of life and no one should be shocked if a woman has stretch marks or a pouch on her belly.
Yet, so many of us continue to hide that area and feel like the world shouldn't see it. That's why it's fantastic to see women like DeRouen embracing her stomach instead of concealing it at every turn.
DeRouen says, "I have stretch marks, so what! I'm no longer ashamed. My body has accomplished so much: the immense beauty of motherhood; the pleasures of maturity; and the undeniable journey of growth. There is no one, not even myself, that can ever make me feel badly about my skin."
It's hard to argue with her on that. So, maybe we should take a cue from her and feel just as good about our own post-baby bodies.