Let This Mom's NSFW 1st Birthday Cookie Fail Be A Cautionary Tale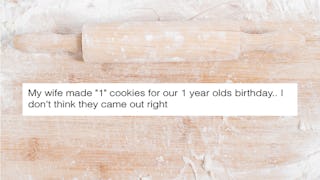 Image via Shutterstock
You've never regretted anything as much as this mom regrets this cookie fail
Baked goods always seem like such a good idea don't they? Until they just aren't. Some of us are proficient bakers, but the rest of us just try and try and fail and make a giant mess in the process. And in this case, possibly horrify grandma.
A husband recently uploaded a picture of the cookies his wife tried to make for their one-year-old's birthday party. Good thing she went with blue, because in pink these would be even more interesting.
Wow. There are 97 cookies here, and some are out of the frame. So there were at least 97 chances for this mom to realize she was frosting erect penises for her baby's first birthday. This is living proof of what sleep deprivation and a one year-old do to the adult brain.
The other option is that the shape didn't totally reveal itself until after all the cookie cutting and baking happened, at which point she was just like, "Fuck it. I just made nearly 100 cookies. No way am I redoing this." Which we totally get. Baking rounds off things and makes what was once a hard edge, simply a hard penis. Anyone who has experience baking will co-sign this fact.
The other option is that she has a great sense of humor, immediately noticed they were penises, and was like, "HA. Best. Birthday. Ever."
Well, it could have been worse. She could've opted for rainbows:
Look, it's not a tired mom's fault that so many things in this world are phallic.
This article was originally published on