Mom Buys Out Entire Store Of Payless Shoes To Donate To Kids In Need
by Cassandra Stone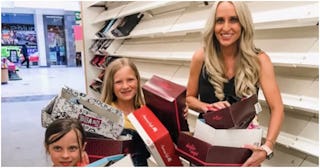 THV11
She says her daughter gave her the idea to help kids who are in need of new shoes
An Arkansas mom of three is making the most of a going-out-of-business sale at a local Payless shoe store. She initially went into the store looking to score some affordable back-to-school shoes for her own kids, but what ended up happening is far more rewarding than snagging a good deal for yourself.
Carrie Jernigan tells CNN while she and her daughter were inside the store, the little girl asked if she could buy a new pair of Avengers-themed shoes for a fellow student at school who loves superheroes — but whose own shoes were too small.
"She has the biggest heart, and she said 'There is a boy in my class that loves avengers, and his shoes are too small, could you buy him these?,' and I was like 'of course,'" Jernigan tells KFSM news.
Thus, a brilliant and generous idea was born: Jernigan asked the store clerk how much it would cost to buy out every last pair of shoes. "I could see her face; her wheels started to turn," Jernigan says. "She asked, 'Can I have your number?'"
Later that day, Jernigan received a call from Payless's district manager, who approved the purchase. Jernigan was told to expect 200-300 pairs of shoes, but a last-minute shipment more than tripled that number.
"The next thing you know we are trying to figure out how to get almost 1,500 shoes home with us that day," Jernigan says. While the thought of over a thousand shoeboxes overtaking the home is indeed extremely overwhelming and anxiety-triggering, think about how many people will benefit from Jernigan's generosity.
As for Payless, earlier this year the company announced the closing all 2,100 of its U.S. stores permanently, with liquidation sales beginning this Sunday. Sad news for '80s and '90s kids everywhere, because we've all spent plenty of time in our childhoods browsing the aisles of discount shoes with our moms before the beginning of every school year.
Jernigan definitely made the most of the store's last days, that's for sure.
"I always tell my kids, if you ask them what they want to be when they grow up they say be kind, and so I don't care what they do in life as long as they are kind and good people," she says. "And so it just reiterates to me that their hearts are in the right place and if it's in the right place they can do amazing things."
Apparently, the Jernigans' random act of kindness has inspired many people to reach out, wanting to donate that they have decided to throw a back to school bash the weekend before classes begin. Next month they'll team up with a local church to give away the shoes and some school supplies.
This article was originally published on