Mom's Very Real Photos Of Her Sons Perfectly Capture Life With Little Boys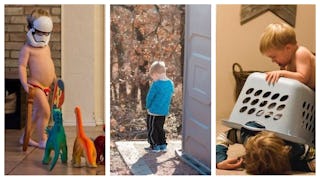 Image via Sara Liz Photography
Sara Easter's family photos aren't staged but they sure are stunning
Being a parent in the digital age has its perks — having a camera at our disposal literally all the time is one of them. We get to document our children's lives in ways generations of parents before us couldn't imagine.
Which is what drives photographer and mom of three Sara Easter to keep snapping away, capturing sweet, everyday moments with her three boys. She shares the photos on Instagram so the rest of the world can see the adorableness.
"I've been doing photography since I was in high school but for me it took on a new importance once my kids were born," Easter tells Scary Mommy. "It quickly became evident how fast this was going to go, how much was going to be constantly changing."
Indeed, it goes incredibly fast. One minute, they're babies who are completely reliant on us for every tiny thing — the next, they're independent little humans and we're left sobbing at our Timehop app's daily deliveries (maybe that one's just me).
So Easter combined her passion and her love for her children to document what life is really like for her and her husband while raising three boys.
Easter says it's her "mission" as a mom to capture as much of their daily lives as possible. Her pictures aren't staged; they're real. And really adorable.
"I photograph them pretty much every day and I try to be intentional about the things I capture," she says. "Although I don't stage any of these photos, I have a list in my head of things I want to photograph about them when I notice them happening."
I know when I look at old photographs from my childhood, it's not the Sears Family Portrait Studio pics I cherish. It's the moments where my sister and I are wildly throwing streamers in the air on New Year's Eve while wearing killer '90s pajamas. It's the candid snapshots of family members and pets who aren't with us anymore, caught in an ordinary moment and perfectly, forever preserved.
Easter's photos are going to mean so much to her boys when they're all grown up, of that there's no doubt.
"I'm always on the look out for opportunities to capture their likes and dislikes, interests and mannerisms, as well as their ever changing physical attributes," she says.
While we're not all as talented at photography as moms like Easter are, it's so wonderful to be able to snap and keep photos of the everyday moments. Because those moments — as any mom can tell you — are both fleeting and precious.
"In the end I want them to have photos of their childhood that don't just reflect what they did or how they looked," she says. "But ones that actually tell a story about where they came from and who they are as people.
This article was originally published on