Mom Posts Reminder That Social Media Doesn't Always Show Real Side Of Parenthood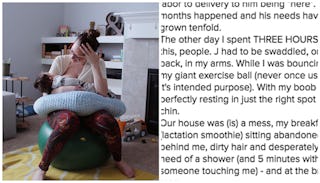 Mother posts raw photo and gives us a much needed look inside real parenthood
The best family pictures on social media aren't the posed shots, everyone in matching outfits smiling perfectly for the camera. They are the raw, honest, messy, and often hilarious photos that depict real life.
Mother and blogger Shannon Peterson posted a powerful message to parents several weeks ago reminding us there is so much more to parenthood than the filtered photos you see on news feeds. Perfection and parenting do not go hand-in-hand, no matter what your Facebook feed shows you.
The mom of two wrote a post earlier this month on her website Much Most Darling after her newborn son had a challenging breastfeeding day. In her post, Peterson opened up about the difficulty of motherhood and just how hard it can feel to get through some days. "Our house was (is) a mess, my breakfast (lactation smoothie) sitting abandoned behind me, dirty hair and desperately in need of a shower (and 5 minutes without someone touching me) ― and at the brink of tears," she wrote. She shared that her son has been an easy baby but as he grows, so do his needs. Peterson said, "The other day I spent THREE HOURS like this, people. Over 180 minutes. More than ten thousand eight hundred seconds. Bouncing side to side and back and forth, in a very particular pattern."
Parenthood is tough. It can feel lonely and overwhelming. It's not always what you thought it would be or what is often portrayed to women before they are mothers. "It's not that I intentionally leave out these hard days, these rough moments from my feed. It's more so that I'm trying to focus on the good. (…) I also think it's really important to address the not so great stuff so that people know it's normal, Peterson wrote. "Because when I was pregnant, no one talked about it – no one told me about the nitty gritty. They just painted this beautiful picture of what motherhood would look like and how I would feel so full of love and happiness all the time, and that's not the case at all," she said.
Many use social media to portray a perfect life when every parent knows this concept doesn't exist. Parenting is a circus with moments of pure brilliance thrown in. So why is it so hard to show the unattractive side of parenting? The side with the screaming and meltdowns and temper tantrums. A founding principle of social media is to provide connection, but those don't happen if we aren't being real.
Peterson went on to admit, "The truth is, this is who I am most days. Not a put together human who has her act together. Not a mom who can juggle working from home, kids, etc. I'm just a crazy person trying to maintain some semblance of calm while attempting to figure it all out." Peterson also told The Huffington Post, "Scrolling through my feed is hard ― seeing all these beautiful moms with their hair and makeup done every day, perfectly put together left me wondering why I couldn't be that. Why I couldn't do what they're all doing."
Peterson's picture is what every day motherhood looks like, and that in itself is beautiful. She looks amazing and remarkable and she just brought another living thing into this world. She is breathtaking. Not because her hair is perfect or she managed to put on make-up, but because she is a woman and a mother and that is enough.