This Mom's Sweary Pregnancy Announcement Is The Sh*t
by Valerie Williams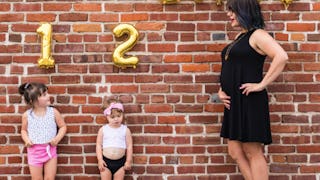 Image via Courtney Woods
The use of a swear word was definitely warranted
A cutesy pregnancy announcement is all the rage in these modern times, and just when it feels like we've seen the same themes used over and over, a mom comes out with a fun twist on this social media right of parenting passage.
A pregnancy announcement with a perfectly-deployed swear word.
Courtney Woods is the voice behind the blog Rose & Marigold. She's also mom to two girls, Madeleine and Eloise, ages three and two. When she found out she was expecting a third baby, Woods was pretty shocked. She made sure those feelings were reflected in her hilariously executed Instagram post.
"We are beyond excited to announce that baby number THREE is coming!" she wrote. The Woods family would officially be a party of five, and the reason this pregnancy was a shock is one many moms can relate to.
"Oh shit. That was the first thing that I said as I stood there looking at 25 pee filled sticks. Oh shit, I'm pregnant. Oh shit, that doctor was SO wrong when he said I would need treatments to conceive," Woods wrote on her blog. The mom explained that she has Polycystic Ovarian Syndrome (PCOS) and was told before becoming pregnant for the first time that she'd need fertility treatments to conceive.
She says her body "did a big F-YOU" to that doctor, as she got pregnant without intervention, and had no trouble conceiving Eloise either, having only one postpartum period before finding out she was expecting again. And then? Her body defied the odds three times in a row. We can hardly blame her for being surprised.
Woods tells Scary Mommy that there were some nosy busy-bodies wondering about her family planning skills. "A lot of people have questioned if this pregnancy was planned and to be totally honest – it wasn't. None of our pregnancies were."
Because of her PCOS, Woods didn't want to set herself up for disappointment when it came to getting pregnant.
"To me planning would mean disappointment if it didn't happen, and that wasn't something I wanted. So when that test showed positive you can only imagine what I was feeling! That's a pretty big 'Oh shit' moment if you ask me."
We fully agree.
As for Madeleine and Eloise, they couldn't have been more thrilled with their parents' "oh shit" news. "Madeleine is SO excited for another baby," Woods shared. "Everyday she asks how big baby is. Eloise loves to scream at my belly – she's my wild girl."
Things were about to get a lot more wild for Woods and her family with one more kiddo in the mix, but with her sense of humor intact, we have no doubt she's nailing it.
This article was originally published on